Quick Links to Best Prices Price History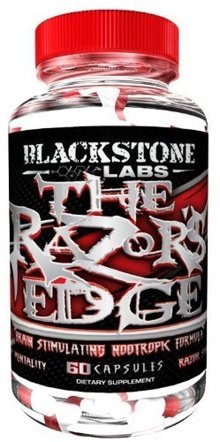 Blackstone Labs The Razors Edge
Product Information
Blackstone Labs The Razor's Edge 60 capsule
The Razor's Edge is a unique and one of a kind supplement that everyone will benefit from using. It's not just a bodybuilding supplement, it's an EVERYBODY supplement. Pick up a bottle or two today and find out what all of the excitement is about.

Are you ready to get back into focus? Take your life to the next level? How about reaching the potential you always knew that you had deep down inside? Did you ever wish there was a pill that could make you more alert, more driven, and could give you the ability to get the most out of each and every day? Well the wait is over! Blackstone Labs is introducing the product you have been looking for.

Bodybuilders, athletes, and gym-goers, we didn't forget about you. The phrase, being in the zone has been used in all sports arenas. Wouldn't it be great if you could harness that feeling and put it in a bottle? Athletes like Michael Jordan and Tiger Woods were born with an uncanny ability to lose themselves in the game and block out everything around them, completely honed in on one goal: GREATNESS. What if we told you we have something that can give you that feeling anytime you need it?

Did you ever have a hard leg day that you were absolutely dreading? The thought of a 20 rep set of squats weighed on your mind, body, and soul all day long that you became physically exhausted before you ever made it to the gym? Instead of the squat rack stalking you, it's time you stalk the rack. Come in fresh, focused, and confident, ready to punish your next lift.

Introducing "The Razor's Edge"

The Razor's Edge is the next impressive performance enhancing super supplement to hit the Blackstone Labs product line. Its three main ingredients: Phenylpiracetam, CDP Choline, and Adrafinil are highly potent and highly efficient nootropics. If focus, confidence, or mental fatigue plagues you, then you need to give The Razor's Edge a try. Our ingredients have been compared to medications Provigil and its generic cousin, Modafinil; however, those two come with a much higher price tag.

What will happen once you take your first dose?

Within 45 minutes to 1 hour you will automatically feel yourself become more "locked in." What that means is you will have an unyielding desire to get things done. Whether you're a student with a heavy study load, business person with stacks of assignments on your desk, or priming yourself for a workout at the gym, one dose of The Razor's Edge will have you locked and loaded for the tasks ahead.

The Razor's Edge is a unique and one of a kind supplement that everyone will benefit from using. It's not just a bodybuilding supplement, it's an EVERYBODY supplement. Pick up a bottle or two today and find out what all of the excitement is about.

Includes:

Phenylpiracetam- Phenylpiracetam is a Nootropic and as its name suggests it is a phenyl derivative of Piracetam. There is a good bit of research to suggest that phenylpiracetam is effective in reducing the rate of and symptoms of cognitive decline. It is said to support energy, focus, and sharpened memory and cognitive performance.

CDP Choline- CDP-choline stands for cytidine-5'-diphosphate choline. This unique form of choline readily passes through the blood-brain barrier (BBB) directly into the brain tissue. Once past the blood-brain barrier, CDP-choline activates the synthesis of critical components in cell membranes, enhances cerebral energy metabolism and increases levels of various neurotransmitters.

Adrafinil- Adrafinil is metabolized into modafinil, a medication for alertness. Adrafinil has been found to increase exploratory behavior and alertness in animals and it also increases the speed of learning and decreases errors in the performance of a task. Adrafinil is also used by individuals wishing to avoid fatigue, such as night workers or others who need to stay awake and alert for long periods of time.

Unlike modafinil, however, it takes time for the metabolite to accumulate to active levels in the bloodstream. Effects are usually apparent within 45–60 minutes when taken orally on an empty stomach. Adrafinil is a truly potent supplement and should be used with discretion. At Blackstone Labs we use no cutting agents in our supplements, meaning you are getting the purest form of the supplement possible.1

Directions: As a dietary supplement, take 1 to 2 capsules per day in the morning, or 30 minutes before you need to be focused.

Warning: KEEP OUT OF REACH OF CHILDREN. This product is intended for adult men only. Not for use by women or anyone under 21 years of age. If you have or have had a medical condition or are currently using s consult your physician before using this product. Avoid this product if you have any previous history of medical dysfunction or disease, including but not limited to high blood pressure, heart, kidney, thyroid, or psychiatric disease, difficulty urinating, prostate enlargement, anxiety, depression, seizure disorder, or have had a stroke. Do not combine this product with other medications or supplements. Do not exceed suggested servings. Consult your health care professional before use if you are taking any s. Consult your health care practitioner before beginning any weight loss program. Do not exceed 6 weeks of continuous use of this product. In case of accidental overdose, contact a health care professional or poison control center immediately.

Other Ingredients: Magnesium Stearate, Silicon Dioxide, Titanium Dioxide.


These statements have not been evaluated by the Food and Drug Administration. This product is not intended to diagnose, treat, cure, or prevent any disease.
1: Individual results may vary. Reviews are based on the experiences of a few people and you may not have similar results.