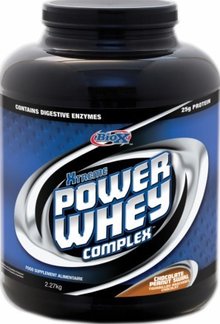 BioX Xtreme Power Whey Complex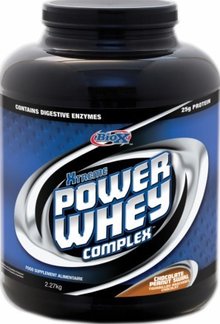 BioX Xtreme Power Whey Complex
Xtreme Power Whey Complex™ is formulated using a distinctive three tier protein matrix:
a 100% cross flow microfiltered and ultrafiltered whey protein concentrate
a 100% cross flow microfiltered, ultrafiltered, and diafiltered whey protein isolate
an enzymatically hydrolyzed whey protein
Xtreme Power Whey Complex™ uses an exclusive filtration process to isolate the protein. This ensures that all of the vital whey fractions remain intact in the finished product and is formulated using an advanced flavoring technology to make an excellent taste!
Unlike our competitors' products, Xtreme Power Whey Complex™ is formulated without the use of any controversial sweetners (aspartame). At a lactose level of under 4.5%, Xtreme Power Whey Complex™ is easily tolerated by most individuals.
Frequently Asked Questions:
What is Whey?
Next to water, protein is the most predominant substance in the human body. Protein is required in the growth, maintenance, and development of all body tissues including muscles, blood, skin, hair, nails, and internal organs (the heart and brain). In short, protein (whey) is essential for life.
What is Xtreme Power Whey?
Xtreme Power Whey is a whey protein that is isolated using a very gentle microfiltration, ultrafiltration, and diafiltration process to remove the unwanted components of whey (fat and lactose) and retain the vital components (the protein including all of its whey fractions). Xtreme Power Whey contains a generous amount of all the essential amino acids and is especially high in branched chain amino acids and the conditionally essential amino acid, L-glutamine.
How is Xtreme Power Whey Different From Other Proteins?
Xtreme Power Whey is derived from a sweet dairy whey (many whey proteins are derived from acid whey). This means that Xtreme Power Whey is a non-denatured and complete whey protein supplement. Xtreme Power Whey's special isolation process yields a complete whey fraction profile including beta-lactoglobulin, alpha-lactalbumin, glycomacropeptides, immunoglobulins, lactoferrin, and bovine serum albumin.
Does Xtreme Power Whey include Glutamine?
Xtreme Power Whey has a very impressive amino acid profile. As far as glutamine content, Power Whey contains a remarkable level of naturally occurring glutamine. There are over 17 grams of glutamine per 100 grams of protein in the isolate.
Does Xtreme Power Whey include Glutamine Peptides?
Don't be fooled! "Glutamine Peptides" is not glutamine. It is hydrolyzed wheat protein. What's the difference? Well for starters, hydrolyzed wheat protein only contains 30% glutamine as part of its amino acid profile. Some companies add a small amount of hydrolyzed wheat protein and combine it with naturally occurring glutamine in the whey protein in an attempt to mislead you into believing that their product contains a significant amount of added glutamine.
For example, in a 50 gram serving of whey protein there are about 8 grams of naturally occuring glutamine. The company will then add 2 grams of hydrolyzed wheat protein and make an implied claim that there are 10 grams of added glutamine in their product! If a product you are currently using is marketed in this manner, be skeptical. What else is this company misleading you about? We avoid using hydrolyzed wheat protein (glutamine peptides) in our products as it is a common allergen and a cheaper and inferior source of protein and glutamine.
Isn't Whey Just For Bodybuilders?
Absolutely not, although bodybuilders were the first to recognize the incredible potent benefits of consuming whey, now whey has undoubtedly become the top used protein supplement by people from all walks of life:
Active Teens & Healthy Adults: Whey protein provides the body with a complete amino acid profile that is easily digested and tolerated.
Elderly Individuals: Whey protein supports bone health in elderly individuals keeping them strong and healthy as the body ages.*
Expectant Mothers: Expectant mothers protein requirements are increased by as much as 30%, so whey protein is an ideal source to obtain the extra protein required.
Immune System Support*: Whey protein supports the body's immune system by raising gluathione levels.*
In Short, Whey Protein Is For Eveyone!
Does Xtreme Power Whey Contain Lactose?
Lactose is a milk sugar that causes bloating and stomach discomfort in some individuals. Xtreme Power Whey is exceptionally low in lactose. There is less than 2% lactose in the isolate. To put this in perspective, a single serving of the isolate has less than 0.5 grams of lactose. In comparison, a 12oz glass of 2% milk has 21 grams of lactose.
How is Xtreme Power Whey Sweetened?
Xtreme Power Whey is sweetened with a revolutionary new sweetener that tastes like sugar but has zero calories. We avoided using any controversial sweeteners like aspartame. Although sucralose (used in our product) is over three times as expensive, it was chosen because we wanted the best and safest choice for you!
Xtreme Power Whey Isolate "All Natural" is also available for individuals that do not want any artificial ingredients including sweeteners, colors, or flavors!
How Much Protein Should I Consume On A Daily Basis?
As a general rule, your daily intake of protein should be at least one gram for every kilogram of bodyweight. However, many studies have shown that active individuals, strength athletes, and very active individuals benefit from additional protein.