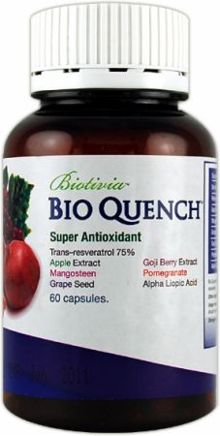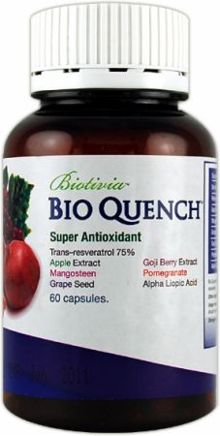 Trans-resveratrol 75% -
This ingredient alone would make an extraordinary product.
Resveratrol synergistically modulates the benefits of the other polyphenols contained in this complex. All natural, full-spectrum, bio-enhanced compound containing no synthetic or genetically-engineered compounds.
Apple Skin Extract - Extremely powerful ingredient with one of the highest ORAC values of any polyphenol yet discovered.* It is one of a class of new and exciting polyphenols called Salvestrols. Apple phenolics are concentrated in the fruit's skin.
Goji Berry Extract - Uniquely rich source of complex phyto-nutrients and bio-flavinoids. The newest of the Super berries to be discovered by western researchers. The Lycium barbarum contained in Bio Quench is extracted from Himalayian berries and is free of all pesticides and chemical residues. Goji berry's traditional usage is to support eye health and to promote immune function.* One capsule is equivalent to approximately 12 glasses of full strength Goji Berry juice at a fraction of the cost.
Pomegranate Extract - A complimentary, extremely high ORAC value polyphenol. Also a very good source of B vitamins, pantothenic acid and potassium.
Mangosteen Extract - Shown to have antioxidant and pro immune system activity in studies since 2004.* Bio Quench contains only Alpha Mangostin and Gamma Mangostin, the two beneficial Xanthones found in the Mangosteen exocarp. Extracts containing only the Mangosteen fruit itself are of no antioxidant value.
Grape Seed Extract - A powerful proanthocyanidin that has been suggested exhibit a higher effective antioxidant capacity than Vitamin E.*
Alpha Lipoic Acid - May help support memory performance.* This antioxidant is able to penetrate the membrane of cell mitochondria unlike many other polyphenols, thereby helping maintain a healthy cellular redox state.* ALA is an essential cofactor for many human enzyme complexes.