Warning: This product is not currently available at any store.
Click the button above and PricePlow will email you when the first store has it in stock!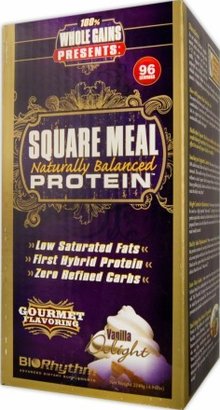 Order & Save $19!Order and automatically receive a $19 discount at checkout on BioRhythm Square Meal, 4.94 Lbs. in the flavor of your choice!

View applied savings in cart
«»
Square Meal
Purpose:
Support Appetite Regulation*
Support Weight control or maintenance*
Healthy meal replacement
Promote Lean mass gains*
Benefits:
In addition to the obvious and necessary protein, carbohydrates and fat, BioRhythm's Square Meal also provides the 11% RDA for vitamins and minerals while providing 6% of dietary fiber needs...per scoop!
How will Square Meal work for me?
No matter the fitness goal (weight loss, fat loss, increase mass or any combination) everyone will consume protein, carbohydrates and fat in a given day. That is to say if staying healthy and achieving sustainable results is the goal.*
Support Appetite Regulation*
One scoop of Square Meal is a 100 calorie snack that may just help satisfy that sweet tooth and grumbling stomach.* Square Meal's unique balance can help keep you from grabbing high calorie snack foods by eliminating the urge to ruin the daily meal plan.*
Weight control or maintenance*
Two scoops of Square Meal can be used as a high protein "mini-meal". A serving this size has the protein equivalent to about 3oz. skinless, boneless chicken breast, 1/2 cup of prepared brown rice with about the same amount of fat the cooked meal would contain.*
Healthy Meal Replacement
Three scoops of Square Meal has the protein content of a serving of baked salmon, the carbohydrates of a sweet potato with less fat than that meal would contain. Square Meal can be a great choice for a healthy mid-day meal and a better choice than the usual "value meal".*
Promote Lean Mass Gains*
Four scoops has the same protein content of a Sirloin Steak, the carbohydrates of a large baked potato and dinner roll. The "lean fats" in Square Meal make this drink mix much lower in total fat and saturated fat. This meal is an excellent choice to promote an anabolic environment for lean mass gains.*