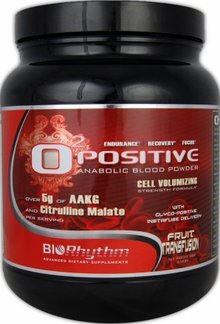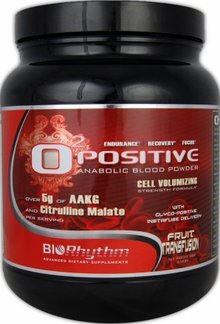 Order & Save $30! Order and automatically receive a $30 discount at checkout on BioRhythm O2 Positive, 700 Grams, Fruit Transfusion!

View applied savings in cart
« »
The new and exciting science of pre-workout supplementation just got even more interesting. The new O2 Positive uses real dosing to promote a total body pump that is sustained and recycled for several hours with each dose.*
The following chart is a useful tool to follow the power of O2 Positive's Anabolic Blood Powder:
1. L-Arginine by now we all know that L-Arginine has been suggested as the primary pre-cursor to the blood pumping power of Nitric Oxide (NO). O2 Positive uses up to 2,5000mg of L-Arginine AKG (2:1) per serving.
Result: Strength, endurance and full body pump.
2. eNOS is the enzyme that converts L-Arginine to Nitric Oxide. NO is a blood gas creating muscle pumps.* This is a fragile process. Supporting "NO facilitators" are required to maintain maximum Nitric Oxide production. These facilitators include: Vitamin C, Vitamin B-6, B-12 and Folic Acid—All of which are present in sufficient amounts in O2 Positive.
Result: Maximum conversion of Arginine to NO.
3. L-Citrulline has a dual role in our body.
Role 1: When L-arginine is converted into NO, a portion of this metabolic reaction yields Citrulline, which is then converted back into Arginine. This cycle is known as the L-Arginine/L-Citrulline Recycling Pathway. Supplemental L-Citrulline is thought to fuel NO recycling & support NO production for extended time periods.*
Result
: The result is muscle pumps that may last well beyond the end of a workout.*
Role 2: Most of us consume adequate (or more than adequate) amounts of protein. L-Citrulline is used as the "trash collector" for metabolic waste from protein digestion.* This is important because if given the choice, naturally occurring L-Citrulline will be used for metabolic cleanup, and not used for NO sustainability.*
Result: O2 Positive uses a very hefty 3,000mg of L-Citrulline Malate (2:1) per serving to support Nitric Oxide sustainability and metabolic clean-up duties.*
4. ATP is the end result of creatine metabolism used to support muscle contraction. What is less known is that ATP is used to recycle L-Citrulline back into more l-Arginine.* This is a costly process because the body will exchange energy units (ATP) to create NO. Your body is forced to sacrifice muscular energy for NO.
That is unless you are using O2 Positive. Our Anabolic Blood Powder uses 2,000mg of Mg2+ -Creatine Chelate (U.S. Patent # 6,114,379). It is a uniquely absorbed form of creatine designed to not impede the L-Arginine/ L-Citrulline Recycling Pathway.*
Result: No sacrifice for strength is made to produce more NO. Have your cake and eat it too (strength. pumps and vascularity)!*
O2 Positive's other accommodating compounds:
Glyco-Positive Instafuse Delivery may help shuttle these amino's into the blood stream as fast and efficiently as possible.*
Focal Positive maintains mental focus and intensity to match the unending power and pump the body is craving.*
Filter Positive helps eradicate free radicals produced by Nitric Oxide blood gases.*
Experience the power of a supplement that compliments what your body is already designed to do.