Warning: This product is not currently available at any store.
Click the button above and PricePlow will email you when the first store has it in stock!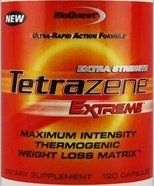 BioQuest Tetrazene Extreme
We here at BioQuest are proud to introduce an historic scientific leap forward in weight-loss technology. Tetrazene Extreme is a physique transformational catalyst like no other. Specifically, it is the first-ever technology to simultaneously target every key thermogenic and energy production pathway, to yield an effectiveness previously unattained in the annals of fat-loss science.
If you've ever tried a weight-loss product from another manufacturer and been less than satisfied with its action and results, it is because those products launch (at best) a limited or one-dimensional attack on excess fat. None of these products contain mechanisms sufficient to engage the full range of physiological actions necessary to affect real results.
A Breakthrough Matrix of Appetite Suppressors, Neurotransmitter Potentiators, and Energy Boosters
One key to Tetrazene Extreme's enormous transformational power is an exciting new appetite suppressant ingredient so powerful that, in a human clinical trial, subjects who consumed it twice per day for just four weeks lost 17 times more weight than those using a placebo. In another study, subjects who were administered this specialized active extract of the Caralluma fimbriata cactus experienced significant loss of waist circumference and decreases in appetite, compared to the placebo group, over a two month period.
Tetrazene Extreme links this powerful appetite suppressant to a revolutionary matrix of synergistic co-factors designed to up-regulate metabolism and enhance energy production to unprecedented levels. In addition to a number of advanced catalysts notable for their ability to promote increased and prolonged levels of norepinephrine, Tetrazene Extreme also contains key compounds that are clinically shown to have powerful thermogenic and metabolism boosting properties. Working in concert, all of these co-factors exert a complete and comprehensive transformational effect never before seen in the weight-loss category.
"So powerful ... it feels like ephedra!"
If you're one of the legions of athletes and fitness-conscious people who have waited years to be able to honestly make such a statement, then Tetrazene Extreme is about to make your desires a reality. Tetrazene Extreme's super-advanced synergistic combination of premium-quality appetite suppressants, metabolic enhancers, and energy boosters facilitates an overall level of effectiveness that may far exceed that achieved by any other supplement of its kind. In short, Tetrazene Extreme is an absolutely essential tool for achieving your ultimate performance and fitness goals!
References:
Ronald M. Lawrence & Suneeta Choudhary. Caralluma Fimbriata in the... 12th Annual World Congress of Anti-Aging Medicine, December 2004, Las Vegas, USA.
Kuriyan R, et. al. Effect of Caralluma fimbriata extract on appetite, food intake and anthropometry in adult Indian men and women. Appetite. 2007 May;48(3):338-44. Epub 2006 Nov 13.