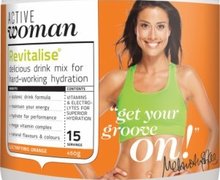 Bio-Synergy Active Woman Revitalise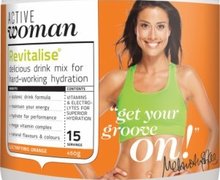 Bio-Synergy Active Woman Revitalise
Maintains Energy and Promotes Performance*
Big Burst of Vitamin C to Increase Antioxidant Activity*
Full Range of B Vitamins to Support Your Metabolism*
Natural Flavors and Colors
Revitalise helps keep you hydrated and performing strong*
Get your groove on with this delicious drink mix that will keep you hydrated and feeling stronger for longer. With only natural colors and flavors, Revitalise is designed to keep your body performing in peak condition.* Your body loses much more than water during a workout, and Revitalise replenishes vital micronutrients to help you look and feel great following periods of exercise.* With a complete collection of your RDA of vitamin C, K, B6 and B12, Revitalise helps you get more out of your water.
How will Revitalise help you?
Quality Carbs for Clean Energy
Your body requires a serious shot of energy during exercise to keep it in fighting shape and maintain a strong performance, but not all sugars are created equal. Revitalise tops up your energy levels with long-chain quality carbs like Dextrose and Maltodextrin to help give you the pep you need.*
Vital Vitamin Complex
With Vitamins C, K, B6, B7, and B12, Revitalise is primed to help you achieve the best shape of your life.* These vitamins play vital roles in efficient energy metabolism, and also help support the health of bones and sensitive muscle tissues.* Play smart and play safe with Revitalise so you'll never have to stop.
Electrolytes to Get You Back on Your Feet
You lose more than water when you sweat, and it's important to restore vital electrolyte levels post-workout to safeguard your gains. We've crafted Revitalise with a blend of Calcium, Sodium, Potassium, and Magnesium to make sure you stay zesty after even the toughest bouts of exercise.*
Convenient Nutrition
A delicious drink mix that will hydrate and restore the jump in your step.*