Warning: This product is not currently available at any store.
Click the button above and PricePlow will email you when the first store has it in stock!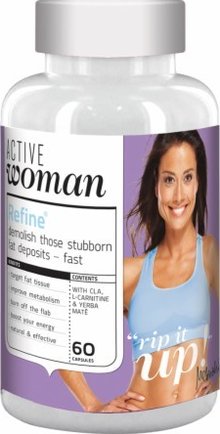 Bio-Synergy Active Woman Refine
Support your Metabolism Thanks to Yerba Mate
L-Carnitine Speeds the Processing of Fat for More Energy and Muscle Growth*
Help Sculpt Your Body to Perfection*
Torch the last of the fat with Refine*
Losing weight is never easy, but Active Woman Refine is a powerful new ally in the war on weight. Packed with essential fat-fighting nutrients like CLA, Yerba Mate, and L-carnitine, Refine is an effective and science-backed way to help lose weight.* Hailed as the future of weight loss, Conjugated Linoleic Acid (CLA) is an Omega-6 which occurs naturally in the body. It's been suggested to help reduce body fat while supporting muscle, so if you're looking to get trim, Refine can make it happen. In a study published in the Journal of Nutrition on the effects of CLA on the body, a daily intake of 3.4g of CLA produced an average 9% reduction in body fat mass.* Get on board today to start feeling the fantastic benefits of Active Woman Refine slimming capsules.
How Refine will help you?
CLA Targets Fat Deposits*
Refine is made with the choicest ingredients on the cutting edge of weight loss science. CLA is a natural omega acid that targets fat deposits for conversion into energy. The result is a rejuvenated you! Get your fat working for you and a more energetic life with CLA.*
Yerba Mate Boosts Metabolism*
Yerba Mate stimulates your metabolism and contains antioxidants to support fat loss.*
Increase Your Thermobolic Fat Burning*
L-carnitine is a micronutrient that assists in fat burning at the cellular level, transporting fat to be burned into energy.*