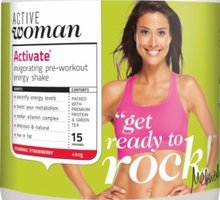 Bio-Synergy Active Woman Activate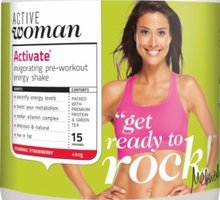 Bio-Synergy Active Woman Activate
Made with Premium Protein for Long-Lasting Vitality*
Green Tea Boosts Fat Loss*
A Full Dose of Calcium & Folic Acid Supports Strong Bones*
Your Full RDA of Vitamin D and Vitamin B6
Activate is a delicious pre-workout energy shake that will electrify your workouts!
To kick start your workout, look to Activate to put some bounce in your step. Packed with premium protein, Activate has the long-lasting nutrition and delicious taste to supercharge your energy levels so you need never fear the next trip to the gym.* Protein has the incredible benefit of filling you up without bogging you down with fat or carbs so you can work on developing a toned physique without sweating what you're eating. With the added benefit of Green Tea to boost your metabolism and a complete vitamin complex to promote sculpted muscle development, Activate is the perfect pre-workout drink for girls on the go.*
How will Activate help you?
A Premium Protein Blend for Superior Energy
Each 30g gram serving of Activate packs a punch of 25g of premium protein - that's 83% of high-powered quality energy to charge your batteries. Our premium protein blend is made with micellar casein, whey isolate, and whey concentrate to provide a balance of short bursts of energy with slow-burning, long-lasting fuel that will help carry you through the longest Zumbathon.*
Made with All-Natural Green Tea
We've added All-Natural Green Tea extracts to Activate to put a little more bounce in your step and to give your metabolism an extra push. Green Tea has been suggested to aid with digestion and promote metabolic fat burning.*
Vital Vitamin Complex
With Vitamin D, B5, B6, calcium, zinc, and folic acid, Activate is primed to push you into the best shape of your life. These vitamins play vital roles in efficient energy metabolism, and also help safeguard bones and sensitive muscle tissues.* Play smart and play safe with Activate so you'll never have to stop.
BCAAs to Support Performance*
BCAAs (or Branched-Chain Amino Acids) provide a powerful source of energy during workouts, and help active muscles perform, recover, and rebuild.* BCAAs play an important role in fueling hungry muscles and making sure they get the nutrition they need to become toned and sleek.*
Convenient Nutrition
A delicious shake perfect before a workout or between meals during the day where a healthy, quick and easy protein and vitamin supplement is required.
Research Backed
Protein has been the subject of numerous studies which have demonstrated its importance in curbing hunger and maximizing muscle recovery.*