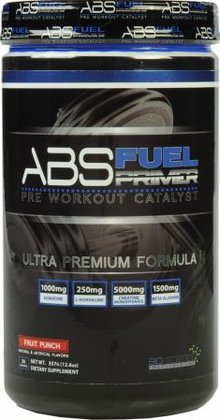 Bio-Science Institute ABS Fuel Primer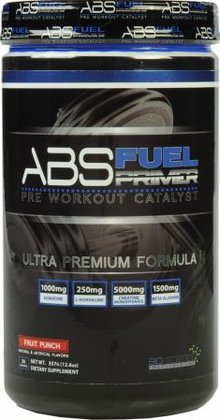 Bio-Science Institute ABS Fuel Primer
Ultra Premium Formula
NO HYPE. FULLY DISCLOSED INGREDIENT AMOUNTS. GREAT RESULTS.
1,000mg l-glutamine •125mg l-valine •250mg l-ornithine Alpha-ketoglutarate •250mg Caffeine •250mg l-leucine11mg synephrine hcl •197mg infinergy Dicaffeine malate •125mg l-isoleucine •
WHAT IS ABSFUEL PRIMER
First let me tell you what Absfuel Primer is not. It is not a proprietary blend that leaves you guessing how much of each ingredient it contains. You see, the FDA mandates supplement companies have to disclose what ingredients are contained in their product but not the amounts. This opens the door for companies to load up on the cheap ingredients and skimp on the more expensive ones and you the consumer have no way of knowing. They add lots of cheap caffeine which gets you amped up but does very little else. Take one look at the Absuel Primer label and you will see that each ingredient and the amount of that ingredient is disclosed. It is our belief that consumers are sick of being duped, are more educated on ingredients, and have a right to know what they are putting in their bodies. You will notice on the label there are no silly adjectives such as explosive, insane, skin splitting, or mind blowing. I can pretty much guarantee you that when you take Absfuel Primer you will not spontaneously combust, your skin will not split, and your mind (although more focused) will not blow up. We let the supplement inside of the bottle do the talking not the label. You can feel free to use those words in your reviews if you choose.
HOW IT WORKS
It starts with 1000mg of Agmatine paired with 250mg of L-Norvaline. Agmatine is a metabolite of Arginine. and has been suggested to increase Nitric Oxide (NO) levels and support healthy hormone levels.* These are obvious benefits sought after by those that work out. Where most pre -workout supplements, that do include the very expensive Agmatine, fall short is failing to control arginase levels. Arginaise is an enzyme your body produces to break down Arginine/Agmatine. Basically you take Agmatine to increase Nitric Oxide levels and your body is producing an enzyme to get rid of the Agmatine thus limiting the time and extent it can increase your NO levels. That is where L Norvaline comes in. L-Norvaline is an arginaise inhibiter. Simply put L-Norvaline extends the life of Agmatine allowing you to achieve as much as a 55% increase in NO levels.

Absfuel Primer contains 5g of Creatine Monohydrade. We went old school with the Creatine. Why? Because if you look at the credible peer reviewed studies on creatine they were done using monohydrate.

For stimulants we use 394mg of caffeine.(250 mg caffeine 197mg dicaffeine malate (74% caffeine) we also add 11 mg synephrine and 25mg N-Methyl tyramine. This combination of stimulants is plenty strong for even the hardcore stim lover.

We round out the formula with 1500mg beta alanine, Glutamine, BCAA's. and Pikatropin (for focus).
AS YOU CAN SEE ABSFUEL PRIMER IS ARGUABLY THE BEST AND MOST ALL INCLUSIVE PRE-WORKOUT SUPPLEMENT EVER MADE. IT IS CERTAINLY NOT THE CHEAPEST. IF YOU ARE SOMEONE THAT DOES NOT MIND PAYING A FEW EXTRA DOLLARS TO GET THE BEST THAN ABSFUEL PRIMER IS THE ANSWER.