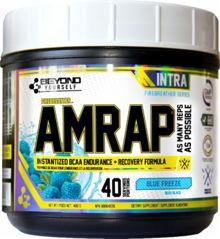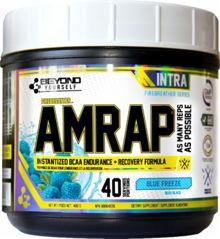 As Many
Reps as possible
200mgmagnesium4.8gl-leucine1000mgl-carnitine
AMRAP (acronym for As Many Reps As Possible) is a form of High Intensity Interval Training (HIIT) focusing on intensity, endurance and most of all form. Usually set to a fixed amount of time, AMRAP workouts can be grueling but deliver some incredible results.
AMRAP is a zero carb/anabolic vegan sourced BCAA endurance formula that goes beyond your standard branched chain amino acid supplement. The combination of BCAAs (4:1:1 ratio), L-Carnitine and Magnesium make AMRAP the perfect supplement for both endurance based and high intensity training. AMRAP is not only designed to help improve recovery time, but it is designed to also help improve muscle function, increase natural energy levels, stimulate your metabolism and help repair muscle to aid with muscle growth.* It's time to go BEYOND YOURSELF!
As an added advantage, Beyond Yourself products use a TRU-MATCH flavor system allowing you to mix multiple products into one great tasting drink (Ex. AMRAP Orange Pineapple can be combined with it's sister product PreSET Orange Pineapple).