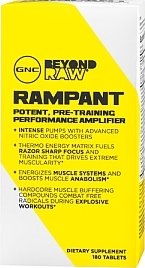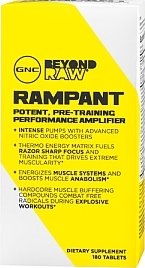 POTENT, PRE-TRAINING PERFORMANCE AMPLIFIER
INTENSE PUMPS WITH ADVANCED NITRIC OXIDE BOOSTERS
THERMO ENERGY MATRIX FUELS RAZOR SHARP FOCUS AND TRAINING THAT DRIVES EXTREME MUSCULARITY*
ENERGIZES MUSCLE SYSTEMS AND BOOSTS MUSCLE ANABOLISM*
HARDCORE MUSCLE BUFFERING COMPOUNDS COMBAT FREE RADICALS DURING EXPLOSIVE WORKOUTS*
GNC Beyond RAW Rampant
five-phased multi-action formula is GNC's most extreme and explosive pre-workout performance amplifier for one very simple reason — it really does work!
Phase one
triggers an all-out vasodilatory effect that must be experienced to be believed. With your first serving of
GNC Beyond RAW Rampant
, the scientifically-developed nitric oxide boosting compounds in the N.O. Vasodilation Amplifier complex rapidly go to work to fuel incredible muscle pumps to support blood flow.*
Phase two
kicks in with raw unbridled intensity to trigger a rapid impact on mental focus and thermogenic potentiation.* The Thermo Energy Intensifier matrix targets the central nervous system neurotransmitter signaling pathway. The end result is an amazing impact on neuro-muscular modulation as you strive for more intense workout performance. The thermogenic potential of the matrix helps your body burn fuel and increase energy for even greater performance enhancement.*
Phase three
works at the myo-cellular level to potentiate muscle energy (ATP) stores. By fueling phosphate pools, the ATP Optimizing Creatine Module helps ensure your muscles have the energy they need to meet your demanding training goals. This means more strength, more power and improved athletic performance.*
Phase four
primes an anabolic environment that is simply astounding. The right triggers are needed to condition the muscle for proper anabolic potential. The
Anabolic Muscle Primer
matrix helps to prime the environment for real muscle-level results.
Finally,
phase five
helps mitigate the crippling effects of muscle fatigue during your workout. The Muscle Buffering System goes to work at the cellular level to buffer the toxic metabolic by-products of intense exercise.
GNC Beyond Raw Rampant
helps you push further into your training zone for the types of awe-inspiring performance enhancement you need to be at your absolute best.
Beyond RAW Rampant
gives you the drive and intensity you need as you strive to shatter records and smash through sticking points. The Result? Ferocious workouts that deliver superior muscularity and a new level of domination in athletic performance. Prepare yourself for the awe-inspiring, devastatingly effective performance enhancing benefits you're going to experience. This formula is beyond powerful – it's
Beyond Raw
!
This product is ship restricted to California.
* These statements have not been evaluated by the Food and Drug Administration. This product is not intended to diagnose, treat, cure, or prevent any disease.