Warning: This product is not currently available at any store.
Click the button above and PricePlow will email you when the first store has it in stock!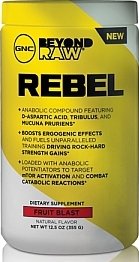 Beyond Raw GNC Beyond RAW REBEL
ANABOLIC COMPOUND FEATURING D-ASPARTIC ACID, TRIBULOUS AND MUCUNA PRURIENS*
BOOSTS ERGOGENIC EFFECTS AND FUELS UNPARALLELED TRAINING DRIVING ROCK-HARD STRENGTH GAINS*
LOADED WITH ANABOLIC POTENTIATORS TO TARGET mTOR ACTIVATION AND COMBAT CATABOLIC REACTIONS*
EXPERIENCE BEYOND RAW REBEL
GNC Beyond RAW is introducing its first ever hardcore, multi-phase ergogenic modulator. GNC Scientists have created this fully loaded pro-anabolic compound for extreme training results! This unique formula provides a scientifically-backed system to boost anabolic primers and provide fuel for hardcore effects.*
ANTI-CATABOLIC BLEND
With a powerful BCAA blend, this unique formula provides key amino acids to help preserve muscle glycogen stores and reduce muscle tissue breakdown.*
ANABOLIC PUMP MATRIX
Enhanced blood vessel dilation sets the stage for vital anabolic nutrients to be rushed to the muscle cells where muscle triggers are activated. This loaded matrix primes your body for extreme performance.*
EXTREME ERGOGENIC COMPOUND
Strive to reach your maximum potential and amplify strength, power and athletic performance. Containing a potent blend of 2500mg of Betaine, 1000mg D-Aspartic Acid, 500mg Tribulus and 500mg Mucuna Pruriens to fuel extreme performances.*
Nitrogen fuels performance, growth, anabolism and recovery, and ingredients including protein, creatine, amino acids, betaine and beta-alanine boost total nitrogen uptake and amplify the power of formula , delivering maximum performance and results. GNC Nitro-Factor is a score that shows the full muscle building potential of a GNC product, beyond its protein content. Rebel is loaded with 7 grams of nitrogen-rich ingredients.
* These statements have not been evaluated by the Food and Drug Administration. This product is not intended to diagnose, treat, cure, or prevent any disease.