Warning: This product is not currently available at any store.
Click the button above and PricePlow will email you when the first store has it in stock!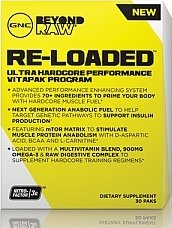 Beyond Raw GNC Beyond RAW RE-LOADED
ULTRA HARDCORE PERFORMANCE VITAPAK PROGRAM
Advanced performance enhancing system provides 70+ INGREDIENTS TO PRIME YOUR BODY with hardcore muscle fuel*
NEXT GENERATION ANABOLIC FUEL to help target genetic pathways to SUPPORT INSULIN PRODUCTION*
Featuring mTOR MATRIX to SIMULATE MUSCLE PROTEIN ANABOLISM with D-Aspartic Acid, BCAA and L-Carnitine*
Loaded with a MULTIVITAMIN BLEND, 900MG OMEGA-3 & RAW DIGESTIVE COMPLEX to supplement hardcore training regimens*
GNC Beyond Raw RE-LOADED is GNC's ultra, hardcore Performance Vitapak Program designed by hardcore athletes for hardcore athletes to dominate your workouts! With revolutionary and proven ingredients. Re-Loaded combines the most comprehensive formulas that target genetic pathways to help create an anabolic environment, maximize muscle protein synthesis and boost anti-catabolic primers.* Beyond Raw RE-LOADED with a Nitro-Factor of 3 grams helps fuel performance and anabolism.*
ONE PAK. EXTREME DOSE. THIRTY DAYS OF INTENSE, POWERFUL, RE-LOADED WORKOUTS
Hardcore Multivitamin - Anchored with GNC's clinically studied multivitamin to support energy production, carbohydrate metabolism and glucose utilization, plus additional muscle-fueling ingredients.* This extreme formula is scientifically designed to fill nutrient gaps in a hardcore athlete's diet, providing ingredients to regenerate antioxidants, helping to support immunity while replenishing actives necessary for muscle protein synthesis and joint support.*
mTOR Matrix - A powerful formula combining BCAA, L-Carnitine and D-Aspartic Acid designed to ignite mTOR activation, help reduce muscle breakdown, facilitate fatty acid metabolism and fuel hardcore results.*
N.O. Push - This extreme compound combines Maca, GABA, Yohimbe and Arginine to support nitric oxide production and sexual vitality. Be prepared to unleash your inner alpha male.*
Anabolic Primer - This proven hardcore extract supports anabolic factors to prime your body.*
Raw Digestive Complex - This unyielding complex helps athletes maximize nutrient digestion and supports healthy liver function.* This complex features digestive enzymes with proven bioactivity that helps to promote protein, carbohydrate and fat digestion.* It is proven to deliver a 32% greater protein breakdown.*
Triple Strength Fish Oil -A high-potency, ultra-pure Omega 3s will also help promote joint health and provide an athlete's body with a natural anti-inflammatory response.*
* These statements have not been evaluated by the Food and Drug Administration. This product is not intended to diagnose, treat, cure, or prevent any disease.