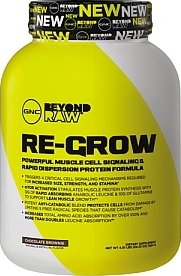 Beyond Raw GNC Beyond RAW RE-GROW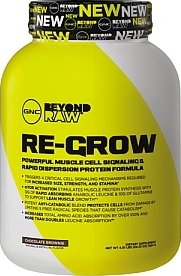 Beyond Raw GNC Beyond RAW RE-GROW
RE-GROWMuscle Cell Signaling & Rapid Dispersion Protein Formula
Triggers 4 critical cell signaling mechanisms required for increased size, strength and stamina*
Increase total amino acid absorption by over 100% and more than doubles leucine absorbtion*
mTOR Activation stimulates muscle protein synthesis to support lean muscle growth with 12G of Rapid Absorbing Anabolic Leucine and 10G of Glutamine*
Potent Anti-Catabolic Blend protects cells from damage by limiting 5 co-factors that may cause catabolism*
UNLEASH THE POWER OF THE FIRST ANABOLIC PROTEIN FROM BEYOND RAWBeyond RAW Re-Grow
is a revolutionary product designed for hardcore athletes. This dual-action supplement is designed to help you maximize your lean muscle mass through powerful, synergistic phases: building lean muscle and protecting it. Phase 1 works to build lean muscle through mTOR-activated muscle protein synthesis. Phase 2 protects hard earned lean muscle by obstructing 5 growth-limiting catabolic flavors.
This powerful formula complements your intense training and will help you achieve the mind-blowing strength and size you crave.*PHASE 1: ANABOLIC MUSCLE SYNTHESIZER
The building phase starts with a colossal anabolic stack loaded with 60 grams of high-quality protein and essential aminos to trigger mTOR-activated muscle protein synthesis. Phase 1 also features massive amounts of Leucine, a powerful BCAA and mTOR initiator along with micronized Arginine that rapidly fuels rock-hard muscles after your grueling workout.*
Beyond RAW Re-Grow
uses a high-quality, rapidly absorbing source of whey protein which studies show helps increase total amino acid absorption by more than 100% and more than doubles the increase in leucine absorption.
Re-Grow
is powered by a proven protein and amino acid blend shown to deliver more than a 25% increase in muscle strength!*
PHASE 2: ANTI-CATABOLIC MUSCLE PROTECTOR
Phase 2 of this powerful formula works to combat the unwanted factors that slow muscle growth.
Beyond RAW Re-Grow
not only helps to build lean muscle, it also protects muscle mass and combats the signals that lead to muscle breakdown.*
To combat these negative signals
Beyond RAW Re-Grow
features a creatine precursor complex that your body uses to create creatine. This formula also contains an antioxidant regeneration.
* These statements have not been evaluated by the Food and Drug Administration. This product is not intended to diagnose, treat, cure, or prevent any disease.