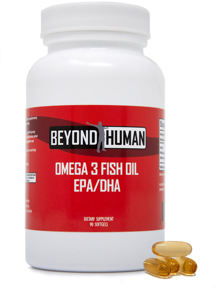 Beyond Human Omega-3 Fish Oil EPA/DHA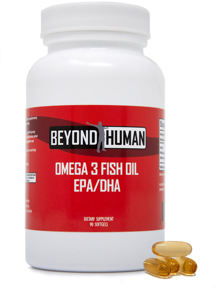 Beyond Human Omega-3 Fish Oil EPA/DHA
Beyond Human Omega-3 is a high quality formula with all of its constituents in a natural balance, Omega-3 is a great way to maintain healthy levels of omega-3s EPA and DHA.
Maximum strength 1000mg of our Beyond Human Omega-3 formula including 300mg of EPA/DHA, 1300mg of BH, 1000mg of fish oil, 180mg of EPA, and 120mg of DHA. Provides you with increased energy and a faster metabolism to help you burn fat!
Recommendations: each serving surpasses the 200mg recommended intake of omega-3s EPA+DHA, supporting heart and brain health, cognition, and immune system function.
Best absorption for best results: Beyond Human formulas are produced in true triglyceride form to ensure optimal absorption and results.
Daily dietary supplement: each bottle contains 30 capsules of Beyond Human Omega-3 Fish Oil, Burn Fat: If taken regularly our formula helps promote a healthy metabolism, boosting energy levels and helping to improve focus. These statements have not been evaluated by the Food and Drug Administration. This product is not intended to diagnose, treat, cure, or prevent any disease.