Warning: This product is not currently available at any store.
Click the button above and PricePlow will email you when the first store has it in stock!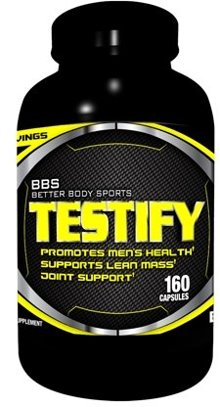 Better Body Sports Testify
Introducing Testify - a strong test supporting/recovery supporting supplement.* Testify contains PURE extracts of Cissus Quadrangularis, Eurycomia Longifolia Jack, and a special proprietary blend that others try to duplicate, but fall short. Cissus Quadrangularis is one of the most intriguing exotic substances to be introduced to the supplement market in years. Used for centuries, studies on Cissus suggest some extraordinary properties. Cissus is being found to be anabolic (tissue building) in cells as diverse as bone, joints and ligaments AS WELL AS MUSCLE.* In addition, Cissus is showing some strong fat burning potential.*
Eurycomia Longifolia Jack, from Indonesia, has gained a reputation as a test supporting compound. While most companies use an inferior Long Jack Root powder, the LJ100 extract used in Testify is the most powerful (and most expensive) extract available.
The Proprietary Testify blend has been tirelessly researched and formulated to provide intense test stimulation.* This bulldozer of a blend offers only the heaviest hitters to support favorable testosterone levels within a normal range.* Tribulus Terrestris has been used, and overused, then used some more...but never before in this special blend of extractions.
Using a triple attack, our Tribulus blend contains a wide spectrum of actives, including the big daddy of them all, protodiosciin, at an insane 40%. Combined with Avena Sativa, Epimedium (accurately known as Horny Goat Weed for its effects on male goats), and Cnidium.* Combine that with Chrysin and Nettle root, the result is a focus and drive that you may come to recognize as PURE ALPHA MALE.*