Warning: This product is not currently available at any store.
Click the button above and PricePlow will email you when the first store has it in stock!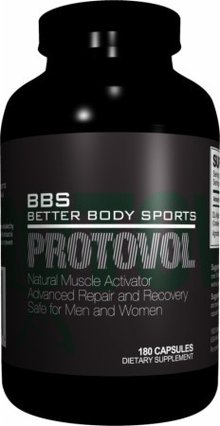 Better Body Sports Protovol
All Natural Anabolic Potentiator
PROTOVOL is composed of two amino acid metabolites; Alpha HydroxyIsocaproic Acid and Agmatine Sulfate. It is designed to provide the user with a natural way to promote faster recovery, quicker muscle growth, enhanced muscle pumps, better nutrient partitioning and increased energy.*
Research has been done on this metabolite of the highly anabolic amino acid leucine. This metabolite is called alpha-hydroxyisocaproic acid (HICA). HICA may be able to reach the muscles without being degraded and has been scientifically suggested to be stronger than its precursor (leucine).* All Studies were conducted with 500mg dosages given 3 times daily. PROTOVOL supplies a full 1500mg daily and is attached to calcium, which may support delivery past the small intestine.* If it was anything less it wouldn't be a true Better Body Sports product.
PROTOVOL is natural. It is not hormonal, it is NOT a precursor or prohormone of an anabolic hormone or testosterone.* It is safe to take over a long period of time.* It is safe for both men and women.* It should be thought of as being similar to a protein supplement, or a multiple vitamin-mineral supplement.*
When taken by weight training athletes, PROTOVOL supports lean body mass and may decrease muscle soreness.* This means when you take PROTOVOL, you may support faster recovery from workouts.* This may allow you to train harder and more frequently.* This means YOU MAY PROMOTE MORE LEAN MUSCLE AND STRENGTH FASTER!*