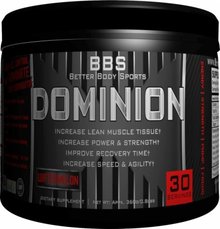 Better Body Sports Dominion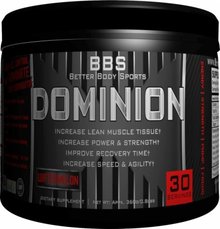 Better Body Sports Dominion
MAXIMIZE, CONTROL AND DOMINATE YOUR WORKOUTS.*
QUALITY CARBS TO FUEL MUSCLES*
LOADED WITH N.O. & CREATINE INGREDIENTS
ENHANCED WITH ASTRAGIN TO PROMOTE AND IMPROVE ABSORPTION OF NUTRIENTS*
POTENT NEURO BOOST BLEND WITH ADRENAL SUPPORT*
AVAILABLE IN DELICIOUS WATERMELON FLAVOR
Dominate your workouts by giving yourself the most complete pre-workout to date! Dominion!
Dominion has been in the making for over 2 years with many variations for sampling and testing purposes. We didn't want to release just another pre-workout supplement…We wanted to release the best! By far the most complete Pre-Workout supplement Dominion contains a powerful nitric oxide blend including the trademarked ingredient "AstraGin" which helps increase the nitric oxide availability of other arginine based ingredients!* This is exclusive to the Dominion product making it stand out from the competition. The blend of Nitric Oxide ingredients includes such forms as Arginine AKG, Arginine Malate, and Agmatine Sulfate. Be prepared for some skin tightening pumps with the dosages in a single serving!*
Also unique to Dominion is our carbohydrate blend of waxy maize, Trehalose, Glycerol Phosphate and D-Ribose. Still a lower carbohydrate supplement these ingredients will help give you fuel to break through those plateaus and reach new lifts!* Also encouraging more strength and size is the new school/old school blend of creatines found in Dominion*. Dominion contains both Creatine Monohydrate and Creatinol-o-phosphate at appropriate dosages to encourage better ATP and hydration of the muscles*.
Dominion is also one of the first to include a combination of Adrenal Fatigue ingredients to help with today and tomorrow's workout! Other Pre-workout supplements make you burn out and fatigue leaving you drained for the rest of the day. The formulation in Dominion helps prevent that by way of great ingredients such as Black Licorice Root, Shizandra berry fruit extract, and Rhodiola Rosea Extract*. Speaking of energy, Dominion contains an intense neuro blend of compounds that really bring the heat*! This Geranium free blend of ingredients like Evodiamine, Shizandrol 7%, Taurine, Tyrosine, and Caffeine at optimal dosages take Dominion and your workouts to the next level*!