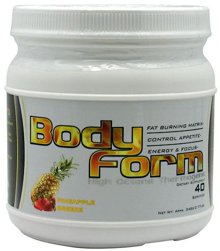 Better Body Sports BodyForm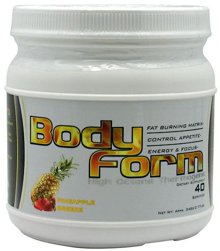 Better Body Sports BodyForm
BURNING FAT NEVER TASTED SO GOOD!
BBS Sponsored Athlete
Elle Iakovenko
As much EGCG as a cup of Green Tea
30% of your Daily Fiber Intake
Absolutely Zero Sugar!
BodyForm is a blend of effective ingredients that will help you complete your body composition and weight management goals!* We spared no cost in completing what we feel to be the most satisfying feel good drink that the supplement industry has ever seen.
The team at Better Body Sports worked hands on with a biochemist to develop a fat loss formula that lived up to the hype by packing it with high quality ingredients at dosages precisely placed for effectiveness. BodyForm uses Sta-Lite III and Nutriose (both high end fibers), to supply 30% of daily fiber requirement. BodyForm also provides more of the powerful antioxidant EGCG, than a cup of Green Tea and as much caffeine as a cup of coffee. In addition BodyForm is loaded with B vitamins and tastes way better than an energy shot!*
Throw away those overpriced energy shots and waist expanding lattes, BodyForm is the only drink you need to look and feel your best!
Available in 3 Delicious Flavors
Orange Blast, Cherry Limeade, Pineapple Breeze
Body Form contains a three stage blend designed to increase thermogenesis, support healthy, normal appetite levels, as well as promote mental focus and mood*.
The first stage of BodyForm is thermogenesis. By turning up the heat in your body, more stored bodyfat may be burned as fuel.* BodyForm's thermogenic blend (Green Tea, Synephrine, Guarana, Octopamine) works synergistically to not only increase thermogenesis, but also provide antioxidant and metabolism support.*
Whether it's energy for the gym or to help power through your day, BodyForm provides the support you're looking for.* BodyForm's blend of Taurine, Tyrosine, Caffeine, and Acetyl-L-Carnitine, will help support mental focus to keep you going until the job is done.* The sustained release of this blend is unlike other fat burners!*
The last area BodyForm covers is promoting a healthy, normal appetite level.* BodyForm contains NUTRIOSE a high soluble fiber, with an outstanding digestive tolerance.* Along with providing a beneficial support for digestive health, fiber may also keep you feeling fuller longer.* This may help you fight the urge to overeat, which can wreck the hard work you put into your physique.* At 30% of your daily intake you can have the peace of mind that BodyForm is doing its part to support your efforts in reaching your goals. The B vitamins in BodyForm also support healthy digestion and energy levels.* You'll find as much B vitamins as in some energy shots, but with way more beneficial ingredients and better tasting flavors.