Warning: This product is not currently available at any store.
Click the button above and PricePlow will email you when the first store has it in stock!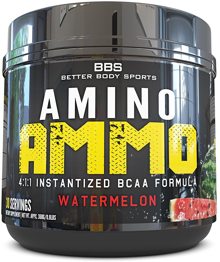 Better Body Sports Amino AMMO
A True 4:1:1 RATIO OF BCAAs
POWERFUL AND HIGH QUALITY NITRIC OXIDE SUPPORT*
LACTIC ACID BUFFER*
ELECTROLYTES
ANTI-OXIDANTS*
AVAILABLE IN DELICIOUS WATERMELON FLAVOR
Most wars don't end in a day and the same could be said for extreme physique conditioning. Are you really prepared for day in and day out grueling workouts that test your mental and physical strength? If you're going to win each and every battle it is necessary that you have the correct weaponry to destroy the enemy (Catabolism)! But even a great shotgun (one rep max) or a machine gun (high rep sets) won't do you any good if you don't have the right Ammunition. Allow us to proudly introduce to you a Amino Acid supplement that provides the ammo you need to fire your weapon with confidence. Amino Ammo has arrived!
Amino Ammo begins with a powerful 4:1:1 blend of branch chain amino acids. These free form essential amino acids make up 35% of the essential amino acids found in muscle tissue and are quickly oxidized during exercise making it critical to have these readily available pre, intra, and post workout. If you want to gain or even maintain your lean muscle tissue it is important that the appropriate amount of Leucine, Isoleucine, and Valine are consumed at the right dosages.* This is exactly why we utilize the 4:1:1 blend (4 grams of Leucine). Leucine has been suggested in studies to have numerous benefits for your muscles including outstanding performance in increased protein synthesis*.
Skin tearing pumps are just one of the benefits of a solid nitric oxide blend. What's more important is the rapid shuttle of nutrients to your blood vessels to encourage repair and recovery.* Amino Ammo steps it up by including a super nitric oxide complex composed of Citrulline Malate and Agmatine Sulfate! We really wanted the best of the best for our customers so we focused on full dosages of these two ingredients because of their many benefits. Citrulline Malate has been suggested to significantly reduce muscle fatigue* as well as increase ATP levels* giving you longer and stronger workouts. Agmatine Sulfate may be considered the new hit by many consumers and rightfully so. Agmatine Sulfate is a metabolite of Arginine making it readily available for the body to put it into action. Not only is this ingredient great for pumps but it is also shown to stimulate LH (Leutinizing Hormone) as well as GH (Growth Hormone) levels*.
We don't like to think that there is any downside to exercise, but unfortunately there is. Free radical production increases due to oxidative stress. In our quest for physical combat we also need to utilize our Ammo as a defense to protect ourselves. This is exactly why we have included several ingredients for the purpose of free radical destruction! Agmatine Sulfate & vitamin C both work to defeat this issue*. Protective Antioxidants such as these may help ensure that, not only is your workout great, but so are workouts to come.*
The clip might be full, but we have more ammunition in reserve! Amino Ammo includes Beta-Alanine for strength as well as key phosphate electrolytes, to ensure the maintenance of necessary minerals for peak performance*! Amino Ammo has it all packed into one bottle, saving you both time and money! Make Amino Ammo a part of your arsenal and give yourself the competitive edge to be the best you can be!
PERFORMANCE &
RECOVERY*
---
PHOSPHATE BONDED
ELECTROLYTES
A good workout formula no matter if you are doing endurance or weight training workouts should include electrolytes to replenish what you sweat. Amino Ammo contains phosphate bonded electrolytes to better the chance of quick use by the body.*