Warning: This product is not currently available at any store.
Click the button above and PricePlow will email you when the first store has it in stock!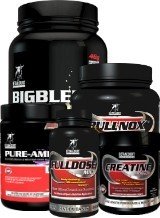 Betancourt Lean Growth Super Stack
Bullnox Androrush - 35 Servings
From the fastest-growing brand for the fastest-growing bodies comes the world's first pre-workout Neuroendocrine & NOX Intensifier, new BULLNOX Androrush. Don't let your testosterone tailwind weaken as you train. Keep your pumps anabolically potent. Feel the "Androrush" as BULLNOX comes to life with its proprietary "Super-Set" formula designed to deliver "Neural Energy", "Strength Endurance", "Cardiovasomuscular Dilation", "Endocrine Ignition" and "Anabolic Solidification", all set off with an unforgettable "Pre-launch" party. Fortified with nitrated BCAAs and an anabolically friendly 5:1 ratio of potassium to sodium. All flavors sugar-free.*
Big Blend - 2lbs
If you're looking to get bigger with the best, then look no further than the inside of this bottle. Each serving of new Big Blend contains a blend of refined proteins and amino acid derivatives from a mind-blowing 22 different sources, all fortified by a low-calorie, low-glycemic infrastructure of brown rice bran, proteolytic enzymes and carbohydrate. With each ingredient having several potential mechanisms of action, Big Blend is capable of supporting a diverse array of anabolic behaviors once it gets inside your body. The muscle-building possibilities are virtually endless. Importantly, Big Blend supports protein synthesis in the whole body -- muscle as well as non-muscle tissues. And it tastes as big as it acts!*
Pure Amino - 28 Servings
Pure-Amino is the most advanced All-Natural BCAA Endurance & Recovery Drink Mix available. It improves upon the typical 2:1:1 ratio of BCAAs by providing a 4:1:1 ratio (Leucine 4g, Isoleucine 1g, Valine 1g) based on the fact that L-Leucine is the most important amino acid when it comes to anabolic signaling for muscle growth and tissue repair (recovery). Pure-Amino also features the muscle anti-oxidant NAC: N-Acetylcysteine which has been shown in research to aid the protection of muscle cells during exertion by promoting Glutathione. This is also what is believed to be responsible for NAC's ability to boost aerobic endurance in some athletes. To further promote Glutathione, Selenium is also used; these two muscle protecting ingredients (NAC and Selenium) have been shown to boost endurance and possibly hormone levels as well.*
Creatine Micronized - 300g
Creatine Monohydrate stands today as one of the most researched and effective stand alone supplements in the sports nutrition industry. Betancourt Nutrition's Creatine Monohydrate is manufactured in our NSF certified cGMP facility in Miami, Florida. This ensures that our facilities comply with all Food and Drug Administration regulations and requirements for the manufacturing of nutritional supplements. Every single raw material used in our products is identity tested before production at a minimum and all finished products are submitted to rigorous quality control and assurance processes and procedures prior to being released to inventory. Guaranteeing the quality and safety of every bottle of Betancourt Nutrition product continues to be at the core of our business and our vision.
Fulldose MNT - 60 Tablets
Nutritional scientists collectively refer to vitamins and minerals as "micronutrients." Micronutrients often go unnoticed by body-building athletes, not to mention the general public. This is more than a little ironic, as without them, your body would literally fall apart.
Betancourt Nutrition caters to the hardcore athlete. Hardcore athletes aren't striving for a "garden-variety" body, so they don't want a garden-variety micronutrient supplement. That's why Betancourt's in-house supplement development team created FULLDOSE. Supplementing the diet with FULLDOSE makes it easier to achieve your daily requirement of the wide array of vitamins and minerals required for anabolism and performance overall.*