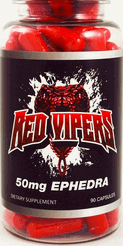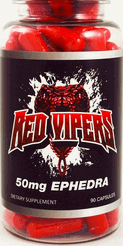 Red Vipers by Viper Labs
is an incredibly popular ephedra diet pill available here at i-Supplements.com. With 135mg of EPHEDREN
TM
Brand extract per serving and other clinical strength ingredients such as Yohimbe, Caffeine, Theobromine and many other ingredients, Red Vipers will be the main staple in your battle against weight and fat loss.
Red Vipers users have also reported:
Amazing Energy
Enhanced Mood
More Focus
Fast Weight Loss
A Leaner Physique
Controlled Appetite
Find Red Vipers with EPHEDREN
TM
Brand extract here at i-Supplements at every day low cost and fast shipping!
Supplement Facts
Serving Size: 1 Capsule
Servings Per Container: 90
Amount per Serving
Ephedran ECA Complex
Caffeine Anhydrous 350mg
Ephedra Extract 50mg
White Willow Bark 25mg
B-phenylethylamine HCL 100mg
Citrus Aurantium (std. to 99% synephrine) 40mg
Peppermint (leaf) Extract 25mg
Rauwolifia Serpentine (std. to alpha yohimbine) 10mg
Coleus Forskolin 10mg
Red Vipers Proprietary Matrix 60mg - Evodiamine 98%, Green Tea (leaf extract), Raspberry Ketones, Garcinia Cambogia (fruit), Green Coffee Bean Extract, African Mango, Chinese Hoodia Extract
Note:
Proper Hydration is important to the effectiveness and safety of all thermogenics.
Warning:
Not for use by individuals under the age of 18 years. Do not use if you are pregnant or nursing. Individuals who consume caffeine with this product may experience serious adverse health effects. Individuals who are sensitive to the effects of caffeine should consult a licensed health care professional before consuming this product. Sale to persons 17 years of age or younger is prohibited. In case of accidental overdose, seek professional assistance or contact a poison control center immediately. Avoid alcohol while taking this product. Do not exceed recommended serving. Exceeding recommended serving may cause serious adverse health effects, including heart attack and stroke. Discontinue use and call a physician or licensed qualified health care professional immediately if you experience rapid heartbeat, dizziness, severe headache, shortness of breath, or other similar symptoms. Improper use of this product may be hazardous to a person's health. Exceeding recommended serving will not improve results.
If you have a negative reaction to this or any products contact the FDA's MedWatch at 1.800.332.1088
KEEP OUT OF REACH OF CHILDREN.
These statements have not been evaluated by the Food and Drug Administration. This product is not intended to treat, cure, diagnose, or prevent any disease.