Quick Links to Our Prices
How does this work and how do stores get listed? See our disclosure below to learn more. Price History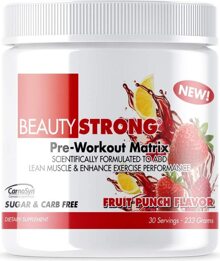 Scientifically Formulated To Support Lean Muscle & Enhance Exercise Performance.*
BeautyStrong™ Pre-Workout Matrix
BeautyStrong™ is the breakthrough pre-workout supplement developed by the researchers at BeautyFit. Designed for the serious female athlete, this pre-workout powder delivers dramatic workout support every single time you train!* After just one workout, and with just one dose of BeautyStrong™, you'll never train again without it! BeautyStrong™ helps you push your workout past the next level, beyond your threshold and your breaking point.* When you're aching to stop because the burn's setting deep inside your muscles, BeautyStrong™ may help give you the extra edge to push yourself further than you ever thought you could.* Of course the harder you train, the harder your body gets. Period.
Concentrated Power
Your workout intensity will be the talk of everyone in the gym, and don't kid yourself because PEOPLE TAKE NOTICE! BeautyStrong™ promotes relentless fury, unstoppable energy, explosive power and increased mental clarity that you must experience to believe!* These effects will course through every muscle in your body within just 30 minutes of taking it!* Each serving contains a concentrated serving of neural stimulants to help support your focus and intensity, along with muscle-energizing ingredients, such as Beta-Alanine, alpha-GPC, Phosphatidylserine, Rhodiola Rosea and Gingko Biloba, clinically researched and suggested to promote the best results for your athletic performance.* BeautyStrong™ will keep you going strong past your very last rep! This is a serious stamina fuel.*
Formulated For Women
BeautyStrong™ is a Pre-Workout formula, created specifically for women. It is a scientifically formulated supplement that promotes anaerobic exercise performance, speeds up recovery, and supports mental acuity.* By combining the latest nutrient timing science with the precise ratio of ingredients such as Beta-Alanine7, 8, 10, alpha-GPC (Alpha Glycerylphosphorylcholine)2, 4, phosphatidylserine15 (SerinAid), Rhodiola Rosea3, and Gingko biloba6, 9, BeautyStrong™ is an excellent pre-workout, during, and post-workout supplement that may tremendously enhance your workouts.*
BeautyStrong™ is formulated with the female athlete or competitor in mind and includes nutrients suggested to help women improve body composition, tone muscle and support health!* It also includes the ingredient all women need to promote strong bones - calcium!* Calcium also helps with metabolism and supporting hormonal balance in the body, something all extreme female athletes need!*
What does BeautyStrong™ do?
Supports buffering of acid build-up from intense exercise*
May help reduce exercise induced fatigue by up to 34%*
Promotes phosphocreatine recovery by up to 20%*
Supports healthy cortisol levels already in normal range*
Promotes mental acuity*
Supports improvements in endurance exercise capacity*
May help increase exercise time to exhaustion by up to 14%*
Supports healthy hormone balancing*
The latest in nutrient timing science
Sugar Free
Scientific References:
Benton, D., R. T. Donohoe, B. Sillance, and S. Nabb. The influence of phosphatidylserine supplementation on mood and heart rate. Nutr Neurosci. 4:169-178, 2001.
Ceda, G. P., G. Ceresini, L. Denti, G. Marzani, E. Piovani, A. Banchini, E. Tarditi, and G. Valenti. alpha-Glycerylphosphorylcholine administration increases the GH responses to GHRH of young and elderly subjects. Horm Metab Res. 24:119-121, 1992.
De Bock, K., B. O. Eijnde, M. Ramaekers, and P. Hespel. Acute Rhodiola rosea intake can improve endurance exercise performance. Int J Sport Nutr Exerc Metab. 14:298-307, 2004.
Govoni, S., F. Battaini, L. Lucchi, A. Pascale, and M. Trabucchi. PKC translocation in rat brain cortex is promoted in vivo and in vitro by alpha-glycerylphosphorylcholine. Ann N Y Acad Sci. 695:307-310, 1993.
Monteleone, P., L. Beinat, C. Tanzillo, M. Maj, and D. Kemali. Effects of phosphatidylserine on the neuroendocrine response to physical stress in humans. Neuroendocrinology. 52:243-248, 1990.
Singh, B., H. Song, X. D. Liu, M. Hardy, G. Z. Liu, S. P. Vinjamury, and C. D. Martirosian. Dangshen (Codonopsis pilosula) and Bai guo (Gingko biloba) enhance learning and memory. Altern Ther Health Med. 10:52-56, 2004.
Stout, J. R., J. T. Cramer, R. F. Zoeller, D. Torok, P. Costa, J. R. Hoffman, and R. C. Harris. Effects of beta-alanine supplementation on the onset of neuromuscular fatigue and ventilatory threshold in women. Amino Acids, 2006.
Stout, J. R., J. T. Cramer, R. F. Zoeller, D. Torok, P. Costa, J. R. Hoffman, R. C. Harris, and J. O'Kroy. Effects of beta-alanine supplementation on the onset of neuromuscular fatigue and ventilatory threshold in women. Amino Acids. 32:381-386, 2007.
Walesiuk, A., E. Trofimiuk, and J. J. Braszko. Gingko biloba extract diminishes stress-induced memory deficits in rats. Pharmacol Rep. 57:176-187, 2005.
Zoeller, R. F., J. R. Stout, A. O'Kroy J, D. J. Torok, and M. Mielke. Effects of 28 days of beta-alanine and creatine monohydrate supplementation on aerobic power, ventilatory and lactate thresholds, and time to exhaustion. Amino Acids, 2006.
Benefits
BeautyStrong™ helps support optimal pH balance in your muscles to promote training harder and longer.* It may also support mental acuity and natural growth hormone production.*
Some of the key benefits include:
Enhanced Endurance: Contains ingredients to support prolonged endurance including Beta-Alanine, which has been suggested to stimulate muscle strength, power, recovery, force output, and support increases in lean muscle.*
Delayed Muscle Burn-Out: Provides key ingredients to promote resisting muscle fatigue so that you can focus on developing a hard, sexy and muscular physique!*
Leaner, Harder Muscles: BeautyStrong™ contains vasodilating ingredients that support blood flow and nutrient delivery to the muscles, promoting leaner, harder, more vascular muscle pumps with your workout!*
Explosive Energy: A strong woman has a strong body! Our innovative formula helps delay fatigue and increase energy, volume and force output to support maximum workout results.*
Increased Focus: Promotes focus, physical performance, reaction time and coping with mild bodily stresses!*
FAQs
Question: How Does BeautyStrong™ Work?
Answer: Within minutes of taking BeautyStrong™ you will experience all this maximum strength pre-workout formulation has to offer! BeautyStrong™ helps promote a hardcore workout every time you train!*
The key ingredient in this pre-workout product drives energizing endurance by supporting anaerobic and aerobic threshold - upping the lean muscle-promoting ingredient, carnosine.* This primes the muscles to support prolonged workouts after just the first serving.* BeautyStrong™ also supports muscle nutrient delivery, promoting blood flow and harder, leaner muscle gains!*
The BeautyFit™ research team also formulated this pre-workout product with ingredients to boost energy and focus.* Ingredients such as caffeine, which has scientifically been shown to help improve concentration and sustain energy levels in athletes.* But the research team didn't stop there. Designed for the serious female athlete, this product also provides calcium to support metabolic and bone-support needs!*
Question: Who Should Use BeautyStrong™?
Answer: BeautyStrong™ is intended for use by only those extreme female athletes who want serious results, and are not intimidated by the weight room! BeautyStrong™ delivers the ultimate mix of muscle-promoting and energizing ingredients to support maximum level workouts and optimum athletic performance each and every time you train.*
This formula is designed for only those fierce females who want extreme results, and are not afraid to put in the long, leave-nothing-behind workouts to achieve a perfectly sculpted, fitness physique!
Simply put, the main ingredient of BeautyStrong™ is the effective component for reducing the barrier to phenomenal workouts - lactic acid build-up.*
Question: How Do I Take BeautyStrong™?
Answer: Due to its powerful formulation, this product should only be used on training days. Mix 1 convenient packet of BeautyStrong in 6 to 8 oz of cold water, and for the best results, you should drink 1 serving of BeautyStrong™ pre-exercise.
Because timing is critical, it is best to consume it 15 minutes or less prior to exercise. Avoid in-take of protein shakes within an hour after consuming this product, as the amino acids contained in a protein shake, could compete for up-take by the muscles with the key driving muscle pumping compounds!
Question: How Long Before I Start To See Results?
Answer: All it takes is just one dose of this powerful pre-workout product to experience its amazing effects! In fact, within minutes of consumption, it promotes the energy to help you take on your workout!* With every set, you will begin to promote a hardening and pump to your muscles!*
And, within just a few weeks of training, you may see the benefits this incredible formulation helps to support, as it helps support busting through plateaus, personal bests and building the lean, hard physique you have always wanted.*