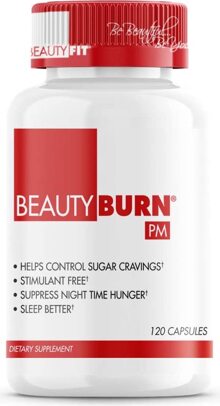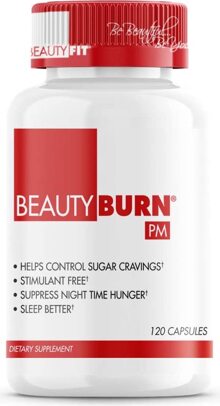 Beauty Fit Beauty Burn PM Product Information

Control evening sugar craving' and nighttime hunger.
Dieting is never easy and by far of the most difficult time to stick with a diet is during the evenings, when sugar cravings set-in and nighttime hunger arises. BeautyBurn PM is the first nighttime weight loss product that directly counteracts evening appetite and sugar cravings almost immediately after you take it. This helps you stick to your diet, which is of course the key to any rapid weight-loss transformation!
After four years of intense research, the team at BeautyFit unveil their first nighttime appetite control weight loss support formula. BeautyBurn PM is designed with 18 unique ingredients that have been shown to support reduction in hunger, control sugar cravings and even ensure a good night's sleep for optimal hormone regulation, improved metabolic function, and improved body rejuvenation and recovery.
Just like the original daytime formula, BeautyBurn PM is a cutting-edge supplement that's being used by many of the top female competitors in the fitness industry to help stop nighttime cravings for good! For around the clock 24-hour fat burning, stack BeautyFuel and BeautyBurn PM, and you've got the most sophisticated dual-action women's weight-loss system on the market by far!
BeautyBurn is formulated with the popular appetite suppressing hoodia, which has been traditionally used as a hunger suppressant, along with White Kidney Bean Extract an effective carbohydrate blocker that prevents the digestive enzyme amylase from breaking down carbs into simple sugars that can be digested by the body. Resulting in less blood glucose spikes and more regulated blood glucose levels keeping cravings under control, while reducing overall calorie intake.
What's more BeautyBurn also helps promote a restful night sleep! A lack of sleep is one of the worst things that can happen to anyone looking to lose weight and sculpt muscle! Hormones called cortisol and ghrenalin are triggered in your body when you don't sleep enough, which increases appetite, but also decreases lean muscle tissue, making it even harder to get that sculpted body or stick to your diet plan! In fact, research has found that people who averaged just six hours of sleep per night were 27 percent more likely to be overweight than their seven-to-nine hour counterparts; and those averaging five hours of sleep per night were 73 percent more likely to be overweight.
BeautyBurn's stimulant free formula is designed to help stop nighttime hunger, control sugar cravings, while also increasing metabolism, burning calories and activate the body's ability to burn fat like never before!
The Wait Is OVER! Burns Fat While You Sleep. Wake Up Fresh & Feeling Amazing
Nutrition Facts

Serving Size 2 Capsules
Servings Per Container 60
Amount Per Serving



Serving

% DV

Chromium (as Chromium Picolinate)

760 mg

167.000%




Calcium (as Calcium Pyruvate)

15 mg

2.000%




BeautyBurn Proprietary Blend

760 mg

-



Proprietary Blends


BeautyBurn Proprietary Blend

Hoodia Gordon Extract (20:1), L-Alanine, L-Leucine, D-Ribose, White Kidney Bean Extract, Gugglesterones Extract, Glycomacropeptides, L-Arginine HCI, L-Carnosine, L-Citruline, L-Glutamine, N-Acetyl L-Carnitine, L-Acetyl N-Cysteine, Phenylalanine, Raw Potato Starch & Silica.




*percent Daily Values are based on a 2,000 calorie diet.




Ingredients: Gelatin, Magnesium Stearate, FD&C Blue #1, FD & C Red #40, Titanium Dioxide.

*These statements have not been evaluated by the Food and Drug Administration. This product is not intended to diagnose, treat, cure or prevent any disease.

†Nutrition Facts are a simulation of the product's "Nutrition Label". For the actual Nutrition Label please refer to the product packaging.
Directions
Recomended use to burn calories fast: Take 2 capsules 30 minutes after last meal with 8oz of water. Cycle use of this product five (5) days on, two (2) days off for eight (8) weeks. Follow this cycle with a two (2) week break before beginning another eight (8) week cycle. Cycling BeautyBurn PM allows your receptors to work optimally and supports proper functioning of thebody's natural feedback mechanisms.
Warnings
Not intended for use by pregnant or lactating women. Not for use by children under the age of 18. Do not use if you have or have had breast, uterine, ovarian or prostate problems. Not recommended for use by those who have depressive or immune function disorders. This product is intended for use at bedtime and can cause drowsiness. Do not operate a motor vehicle or machinery after taking this product. It should be noted that due to its effects on insulin, diabetics should consult their healthcare provider prior to use.