Quick Links to Our Prices Price History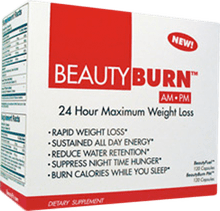 Experience One Of The Most Effective Weight Loss Supplements Ever Developed!*
May Promotes Calorie Burning While Sleeping.*
With an ever-increasing number of studies suggesting a connection between sleep deprivation and weight gain, it's difficult to deny the relationship. People who get at least seven hours of sleep per night tend to have healthier body composition. One study suggested that people who averaged six hours of sleep per night were 27 percent more likely to be overweight than their seven-to-nine hour counterparts; and those averaging five hours of sleep per night were 73 percent more likely to be overweight.*
After four years of intense research, the researchers at BeautyFit™ unveil their latest fat-loss supporting creation. BeautyBurn™ PM is designed with 18 unique ingredients to help promote a good night's sleep to support optimal hormone regulation, metabolic function, and body rejuvenation and recovery.*
What Is BeautyBurn™ PM?
Get ready to start promoting fat burning while you sleep!* After four years of intense research, the researchers at BeautyFit™ unveil their latest fat-loss supporting creation, and it just may change the way you look at fat burners forever.*
The new scientifically advanced women's weight-loss product works while you sleep! BeautyBurn™ PM is a stimulant-free formula designed to promote metabolism, burn calories, and support the body's ability to burn fat.* BeautyBurn™ PM also helps promote healthy appetite levels.* This may help you stick to your diet, which is of course the key to any weight-loss transformation!* But have you noticed that when you drop your calories or take other "fat burners" you can't seem to get a good night's sleep? Well, it might shock you, but a lack of sleep is one of the worst things that can happen to anyone looking to lose weight. Hormones called cortisol and ghrenalin are triggered in your body when you don't sleep enough, which may increases appetite, making it even harder to stick to a diet plan!
BeautyBurn™ PM is designed with 18 unique ingredients to promote a good night's sleep to support optimal hormone regulation, improved metabolic function, and improved body rejuvenation and recovery.* Just like the original daytime formula, BeautyBurn™ PM is a cutting-edge supplement that's being used by many of the top female competitors in the fitness industry. For added results, stack BeautyFuel™ and BeautyBurn™ PM, and you've got one of the most sophisticated dual-action women's weight-loss systems on the market!
The Wait Is OVER! Support Fat Burning While You Sleep.* Promote a good night's sleep.*
Possible Benefits
Suppresses Nighttime Hunger: It contains a proprietary blend of ingredients including hoodia, white kidney bean extract, and raw potato starch that may reduce hunger and support a healthy appetite level, which are stimulated by dieting.*
Reduces Sugar Cravings: It contains chromium, an important mineral that's been suggested to help maintain healthy carbohydrate and blood glucose levels already in healthy range.* This powerful formula also contains natural substances that support carbohydrate utilization, which may promote the utilization of this energizing macronutrient rather than storing it as fat.* It also contains a proprietary hunger suppressing blend that may help reduce sugar cravings.* No more excuses!
Supports Healthy Sleep: It provides a natural herbal formulation scientifically designed to support a good night's sleep by promoting female hormone regulation and metabolic function.* This combination works synergistically to support weight-loss results.*
Supports 24-Hour Calorie Burning: A scientifically based formulation attacks weight loss from all angles, supporting your metabolic rate which may help you burn more body fat while you sleep.* Combine this formulation with BeautyFuel™, and experience 24-hour weight loss! While BeautyFuel™ drives metabolism, BeautyBurn™ PM works without stimulants to promote fat burning and a healthy appetite level!*
Promotes Calorie Burning While Sleeping: BeautyBurn™ PM provides a unique, stimulant-free formulation that may help support fat burning even while at rest.*
FAQs
Question: How Do I Take BeautyBurn™ PM?
Answer: For the best calorie-burning results, take two capsules 30 minutes after your last meal with an eight-ounce glass of water. Cycle the use of this product for optimal results. This will allow your fat-burning receptors to work optimally and support a healthy and proper functioning of the body's natural feedback mechanisms.* Take this fat-loss formula for five days on, followed by two days off for a maximum of eight weeks. Follow this cycle with a two-week break before beginning another 8-week cycle only if necessary.
Question: How Does BeautyBurn™ PM Work While You Sleep?
Answer: This scientifically advanced, stimulant-free formula is designed to support healthy appetite levels, which may be of benefit during dieting by serious female athletes. BeautyBurn™ PM contains unique proprietary blend of ingredients that help support healthy sleep. * Each serving also contains natural ingredients that help promote relaxation.* But did you know that a lack of sleep can result in a slower metabolism and the production of ghrenalin and cortisol? These two powerful hormones can trigger appetite increases, reduction in muscle tone, and overall fat gain! BeautyBurn™ is formulated to support a good night's sleep to help hormone regulation, improved metabolic functions, and total body rejuvenation!*
Question: Who Is BeautyBurn™ PM Designed For?
Answer: BeautyBurn™ PM has been engineered specifically for very active women looking for an extra edge to help support fat loss!* BeautyBurn™ PM addresses key metabolic functions that influence the storage of body fat and promote the body's ability to burn off calories and burn fat, all while you sleep.* This product is designed for women who have decided to take charge of their weight-loss results by getting into the best shape of their lives!
Question: How Long Should It Take To See Results?
Answer: Weight loss depends on several factors, including your starting body fat percentage, diet, and activity levels. For best results, combine BeautyBurn™ PM with a well-balanced lifestyle that includes a healthy diet and intense exercise. For even greater weight-loss support, this product can be stacked with the daytime fat fighter BeautyFuel™.*
Question: Do I Have To Work Out To See Results?
Answer: Although the active ingredients in BeautyBurn™ PM have been suggested to support fat burning even while you sleep, for maximal results, it's crucial that you're willing to change your lifestyle and take on proper healthy eating and training hard.* BeautyBurn™ PM was formulated for the woman who wants to take charge of her weight-loss goals. The BeautyFitTM philosophy is that physical beauty comes from combining healthy eating habits, positive mental messages, and regular exercise as part of your daily routine. If you don't work out, BeautyBurn™ PM is not for you! Consider this before using any of our products as they're designed to complement hard work that can only be put in by you!