Quick Links to Our Prices
How does this work and how do stores get listed? See our disclosure below to learn more. Price History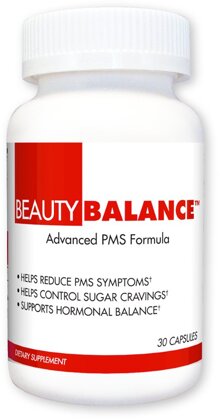 BeautyFit BeautyBalance
Designed by the researchers at BeautyFit,BeautyBalance is formulated with a unique blend of ingredients to keepyour body functioning optimally, by reducing the common symptoms of PMSincluding sugar cravings, bloating, water retention and cramping.BeautyBalance helps stabilize fluctuations in hormone levels that occurduring the onset of PMS, specifically drops in levels of estrogen andprogesterone, causing many unwanted side effects which can de-rail anywoman's fitness program. Decreases in estrogen and progesterone can havea direct effect on multiple pathways involved in mood, carbohydratemetabolism, cortisol production, fat oxidation and water balance.Hormonal imbalances shift the production of the neurotransmitterserotonin, causing a decrease in mood and an increase in sugar cravings!If that were not bad enough PMS fluctuations in hormonal levels canalso cause increased cortisol levels, the stress hormone that can resultin disturbances in sleep, mood, fat metabolism and protein catabolism;resulting in decreases in fat burning and the breakdown of hard earnedmuscle. Top that, monthly hormonal imbalances also result in an influxof sodium and water into cells around the lower abdominals causingunwanted water retention and bloating!

BeautyBalance's unique formulation helps keepyour PMS symptoms under control, with Dong Quai and Evening Primrose Oilto balance hormonal levels and decrease cramping, Gymnema SylvestrisExtract and Chromium to combat sugar cravings and St. John's Wort,Vitamin B6 and B12 to assist in mood, stress and energy metabolism.BeautyBalance also contains Uva Ursi, a natural diuretic that helps todecrease brought on bloating and water retention. This all-encompassingformulation takes care of all the common PMS side effects, whichensures PMS will never get between you and your workout ever again!BeautyBalance is perfect for those women who take their goals in thegym seriously; whether you are an athlete, fitness or bikini competitorwith the help of BeautyBalance you can be sure you keep on track and incontrol of your diet, weight loss and fitness goals!