Warning: This product is not currently available at any store.
Click the button above and PricePlow will email you when the first store has it in stock!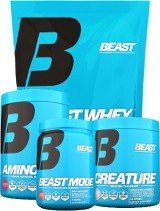 Beast Build a Beast Stack
100% Beast Whey 4bs
100% Beast Whey Protein is a powerful fuel used to help your body increase mass and strength. Our Beast formula is strong because it is designed with Whey Protein Concentrate, Whey Protein Isolate, and Whey Protein Hydrolysate. These are three of the best forms of protein you can get.
100% Beast Whey Protein has added benefits to help your body be fit and strong. The three proteins are digested at different rates for better results. The Proteins allow nutrients to repair, rebuild, and strengthen muscle tissue. Vitamins, Minerals and Enzymes fortify the formula to give your health an extra boost. The formula also helps the body retain Nitrogen, initiating Protein Synthesis to develop new muscle, increase lean mass, and maximize strength.*
Creature Powder - 300g
Creatine is used in intense weight training and endurance activities to fuel your body to push harder, go faster, and recover quicker. Creatine stimulates lean muscle mass, acts as a support system to prevent against muscle breakdown, and aids in muscle recovery.*
Creature is a blend of four top quality types of Creatine. Creapure brand Creatine is imported from Germany utilizing a patented manufacturing process, Creatine MagnaPower is made up of Creatine and Magnesium bound to form Magnesium Creatine Chelate, Creatine AKG is Creatine bound to Alpha-keto-glutaric Acid, and Creatine Anhydrous is Creatine with the water molecule removed. Custom picked, these ingredients are a higher purity and will get absorbed into the body quicker to prevent bloating and intestinal discomfort. Creature also includes Vanadium Citrate to assure maximum uptake directly to the muscle cells.*
Beast Mode - 60 Servings
A professional strength pre-workout formula that takes your performance to the next level. Beast Mode has been specially designed to ignite new muscle, maximize focus and intensity, and give you the energy to power through your workout from beginning to the end.*
Beast Mode helps the body to increase mass and strength by utilizing the perfect blend of Creapure, Beta-Alanine, and NO2 boosters. Creapure is the purest form of Creatine to give you the best results possible. Beta-Alanine and NO2 boosters maximize muscle performance, help you push harder, and dominate your training or competition.*
Aminolytes - 30 Servings
Aminolytes contains a perfect blend of amino acids and electrolytes to help you train harder and recover faster. Used during your workout and after, Aminolytes increase muscle endurance, accelerate muscle recovery and repair, and maximize muscle growth to help you build muscle faster. Formulated with the highest quality ingredients, Aminolytes help your body get big, strong, fit, and healthy.*
Aminolytes is designed to give you that extra edge while training. Aminolytes is also packed with essential amino acids including Leucine, Isoleucine and Valine. These three amino acids, known as the branched chain amino acids or BCAA's, are critical for building mass, strength, endurance, and recovery.*