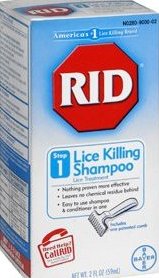 Bayer RID Lice Killing Shampoo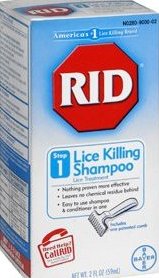 Bayer RID Lice Killing Shampoo
RID Lice Killing Shampoo Description from Bayer Healthcare
RID Lice Killing Shampoo will kill lice completely without leaving a chemical residue. Amount of shampoo needed will vary by hair length.
Ingredients:
Piperonyl butoxide, Pyrethrum Extract, Ammoniu laureth sulfate, fragrance, PEG-25 hydrogenated castor oil, polyquarternium-10, purified water, SD alcohol.
Manufacturer's Directions
1. Apply RID Lice Killing Shampoo according to label direction. Repeat this step this step 7-10 days later to help prevent reinfestation.
2. After Step 1, comb out the eggs and nits in the hair with a fine-toothed comb.
3. Wash bed linens, clothing and other items in hot water and dry high heat.
Manufacturer's Disclaimer
For external use only. Do not use near the eyes, inside of nose, mouth or vagina. Ask a doctor before using if you are allergic to ragweed. May cause breathing difficulty or asthma attack. Stop using and consult a doctor if breathing difficulty, eye irritation, skin or scalp irritation or infection occurs.