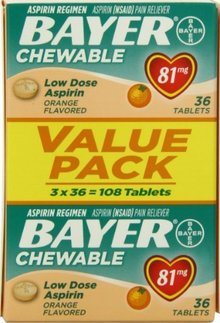 Bayer Low Dose Aspirin (81mg)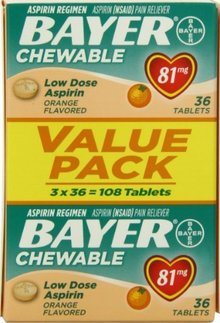 Bayer Low Dose Aspirin (81mg)
Bayer Women's Low Dose Aspirin with Calcium Description
Buffered Aspirin (NSAID) Pain Reliever
Low Dose Aspirin with a Calcium Carbonate Buffer
Aspirin Regimen
81 mg
Uses
• for the temporary relief of minor aches and pains or as recommended by your doctor.
• ask your doctor about other uses for Bayer Women's 81 mg Aspirin.
Directions

Talk to your doctor about regiment use of aspirin.
Drink a full glass of water with each dose.
Adults and children 12 years and over: Take 4 to 8 caplets every 4 hours not to exceed 10 caplets in 24 hours unless directed by a doctor.
Children under 12 years: Consult a doctor.
Disclaimer These statements have not been evaluated by the FDA. These products are not intended to diagnose, treat, cure, or prevent any disease.
Drug Facts