Warning: This product is not currently available at any store.
Click the button above and PricePlow will email you when the first store has it in stock!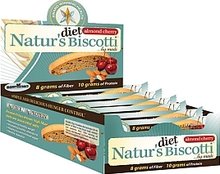 BarnDad Nutrition Natur's Diet Biscotti
Natur's Diet Biscotti 18 pack | On Sale Now at Online!



The perfect anytime snack or meal replacement to help manage your idealweight without feeling guilty! 8g of Soluble and Insoluble Fiber. 32% ofyour daily requirement. 10g Protein. Simple and Delicious HungerControl. Research has shown high fiber diets are associated with:Maintaining health weight. Promoting health cholesterol. Helping tocontrol blood sugar. Healthy digestion. Health Tip: A healthy dietincludes 20-40 grams of fiber a day from both soluble and insolublefiber. One serving of Natur's Diet Biscotti by Madi can deliver 32% ofyour daily requirement. Ultra Fiber DX is a 100% natural (non-GMO), timerelease, soluble and insoluble fiber matrix that naturally reduceshunger and supports healthy weight management, lean muscle and a healthdigestive system. Originally developed in Germany, where it was used tosuccessfully treat diabetic and obese patients, UFDX reduces hunger andslows the digestion and absorption of sugars and carbohydrates. Thishelps reduce insulin spikes and allows glucose to be metabolized moreeffectively. Ultra Fiber DX also supports heart health. It's long beenclinically proven that a diet high in fiber helps reduce cholesterol andtriglycerides, which has a positive impact on the body's mechanisms forregulating health cholesterol production. Health experts recommend ahealthy diet include a minimum of 25 grams of fiber per day. One servingof Natur's Diet Biscotti by Madi provides 8 grams of Fiber, a full 32percent of your daily fiber requirement. While many single fiberproducts or supplements (imbalanced blends) often cause bloating, UFDX'spatent-pending, eight-layer fiber matrix, works in days to provideconsumers with all the benefits of a high fiber diet without thenegative side effects. With Natur's Diet Biscotti by Madi you can nowreceive all the benefits of Ultra Fiber DX while maintaining the greattexture and amazing flavor or a homemade biscotti (cookie). Natur's DietBiscotti by Madi is a homemade hunger controlling, weight managementand weight loss Biscotti (cookie). Full of protein and fiber it isspecially designed to help reduce appetite and promote calorie controlwhile delivering essential protein and amino acids needed for leanmuscle, strength and good health.