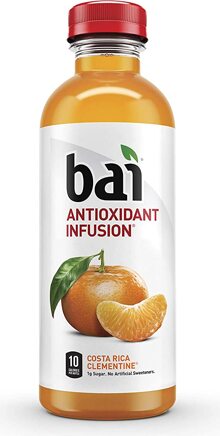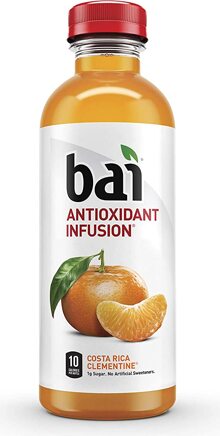 Bai - Antioxidant Infused Beverage Narino Peach Tea - 12 x 18 oz. Bottles

Bai Antioxidant Infused Beverage Narino Peach Tea is for when your taste buds are feeling adventurous. If life were a video game, this Peach flavor would keep getting kidnapped by a big spiky turtle. You'd be a plumber, and your brother would be too, and you'd have a hard time saving the bottle. Like, really hard. That flying level is tough, they get it. But luckily, life isn't a video game! This flavor is real, and it's safe and sound. And with 5 calories and 1 gram of sugar per serving, you're still a big winner.
Purified Product
Nanofiltration removes natural organic matter from water - yicky things like tang, odors and colors. Their process sifts out the bad stuff to create a soft, sensual water with a crisp, refreshing finish.

Purified Process
Aseptic bottling technology is the other half of their super story. They designed a sterile environment for filling and sealing, which creates a sterile product as well as sterile bottles. Super cool, right?
Nature's Secret Weapon
You're probably pretty familiar with the coffee bean. It's dark, aromatic, and might provide you with a lift-off each morning and flavor throughout the day. But do you know where that bean comes from? Do you want to? Then read on, friend! The coffee bean is actually the center of the coffee fruit. And while they at Bai love a good cup of joe, they're pretty pumped about repurposing the outside of the fruit, too. See, the coffee fruit's red pulp has free-radical fighting antioxidants. Antioxidants help maintain your body's natural protections against potentially damaging process such as oxidation. In other words, antioxidants are like your body's bodyguard.
So as you can probably imagine, they love the coffee fruit. They are constantly innovating processes to convert this once discarded coffee byproduct into an even better super ingredient. In fact, they think of it as their super-secret superfruit. Maybe by now you're like, "okay, but where has this superfruit been hiding?" Well, they like their coffee fruit like they like their Spring Break-exotic. So they get theirs from Indonesia, land of lush green fields and bright, tropical skies.
Antioxidants 101
Bai beverages are powered by a "secret superfruit" -a.k.a. the coffeefruit- which includes the fruit surrounding the coffee bean. What makes it so "secret?" The fact that the coffeefruit's outside is an ingredient that, until recently, had not been widely used in beverages found on your favorite stores' shelves. Most Bai beverages are also an excellent source of antioxidant Vitamin C. Vitamin C is needed for the growth and repair of tissues in all parts of your body. Like the pulp of the coffeefruit, the white tea extract in most of their beverages also has polyphenols.
I keep hearing about antioxidants - what are they?
(HINT: They may be "anti," but they're a positive …) Antioxidants are organic substances found in foods and beverages that are capable of combating damage to the body's cells that occurs through the process of oxidation. The coffeefruit used in Bai beverages has antioxidants, as do many other popular foods and beverages - from fruits and vegetables such as blueberries, pomegranates, carrots and tomatoes, to beverages such as green and black tea, to sweet and savory treats such as chocolate and nuts.
What is oxidation and why is it bad?
(HINT: Do you wanna drive a rusty old car?...) Oxidation is a normal, regularly occurring chemical process that produces highly unstable and potentially dangerous molecules called free radicals. Everyday factors and activities - such as diet, pollution, smoking, exercising, stress or anxiety - can speed up the process of oxidation.
Broadly speaking, oxidation is the interaction between oxygen molecules and all the different substances they may contact. In many instances, oxidation can be destructive - think about how rust can damage the body of a car, or how a piece of fruit left out on the kitchen counter too long can turn brown and rotten. Oxidation has a similar effect inside your body. More precisely, oxidation is defined as the loss of at least one electron when two or more substances interact - this is where free radicals come into play.
What are these free radicals?
(HINT: You're making them right now …) Free radicals created through the process of oxidation are molecular fragments that are short one electron. Every human being is constantly creating free radicals simply by living and breathing.
If free radicals are so common, what's the problem?
(HINT: In the body's cellular scavenger hunt, they're "it" … ) The formation of free radicals is a natural bodily process, and they can play a positive role in many normal cellular processes. But at highly concentrated levels, they can be dangerous - potentially causing extensive damage to all parts of cells, including DNA, proteins and cell membranes.
Because they contain at least one unpaired electron in their outermost shell and they want to complete themselves, free radicals combine with healthy cell membranes or DNA to steal their missing electron. This scavenging process sets off a chain reaction that can damage healthy cells and weaken the body's immune system.
What kind of damage can they do?
(HINT: They ain't so rad …) Free radicals are seen as part of the cause of the degeneration of memory, learning capacity and coordination that occurs as the body ages. Free radicals also are thought to play a role in the development of numerous diseases, such as:
Cancer
Heart disease
Inflammatory diseases (i.e., arthritis and lupus)
Neurological disorders (i.e., Alzheimer's, Parkinson's and muscular dystrophy)
How do antioxidants neutralize free radicals?
(HINT: Giveth what free radicals taketh away …) The body does have natural ways of delaying or inhibiting the oxidation process through its own defense system of primary antioxidants. Examples of primary antioxidants include enzymes called SOD (superoxide dismutase), glutathione peroxidase and catalase. But those alone are not completely effective in thwarting free radicals. Plus, the body's power to fight free radicals diminishes with age. This is why the consumption of antioxidants is so important.
Antioxidants are effective in battling free radicals in two ways. They can be sacrificial warriors, giving up their own electrons to free radicals. When a free radical gains the electron from an antioxidant, it no longer needs to attack the cell and swipe electrons from membrane fatty acids, mitochondria or DNA. This valiant effort helps break the chain reaction of oxidation. Antioxidants also can go on the offensive and break down the free radical molecule, inhibiting its ability to attack cells.
So, is this where diet comes in?
(HINT: Bringing in the backup troops …) Maintaining a diet of antioxidant-rich fruits, vegetables, spices and other plant-based foods and beverages is an important part of living a healthy lifestyle. In addition to the body's naturally occurring defenses, secondary antioxidants consumed through dietary sources deliver another wave of defense against oxidation and free radicals.
Is there any concern about consuming too many antioxidants?
(HINT: Ain't nothing like the real thing, baby …) In addition to their naturally occurring form in foods and beverages, antioxidants can be found in man-made form in dietary supplements such as pills. Health experts do not recommend simply replacing a healthy diet of antioxidant-rich foods and beverages with dietary supplements. Such supplements can interact adversely with certain medicines. And high doses of antioxidant supplements have been found to be harmful in some cases. Medical experts and nutritionists caution consumers against overconsumption of antioxidant supplements - and their advice is similar to what Moms and Dads have been telling their children forever: Eat your (super) fruits and vegetables!
Smart Sweeteners
In stores, on the street and on social media, a common question is heard when people sample Bai: "How can a drink that tastes this sweet only have five calories?" The answer lies in the combination of "smart sweeteners" - erythritol and stevia - used in each flavor of Bai.
What are "smart sweeteners"?
(HINT: You're smart if you drink them …) The sweetness found in Bai comes from two sources: stevia, a high-intensity sweetener, and erythritol, a sugar alcohol derived from grains. These two sweeteners, which have very different flavor profiles, are combined in Bai to deliver a balanced flavor.
What is stevia?
(HINT: Looking sweet, sugarleaf …) Stevia is a naturally occurring herb in the sunflower family (Asteraceae). Known in some parts as "sugarleaf" or "sweetleaf," stevia is cultivated in Paraguay, Kenya, California's Central Valley and in other regions around the world.
Stevia has been used as a sweetener by native populations in South America for centuries, dating back to the Incan civilization. In recent decades, stevia has been increasingly used in numerous beverages and foods around the world - and its use in the United States is growing rapidly. A recent study showed that, when consuming stevia, people did not compensate by eating more after a meal, as compared to when they consumed higher-calorie sucrose before the meal - evidence that stevia based-beverages are a great alternative to high-calorie, sugary drinks
And what is erythritol?
(HINT: Helping us find balance …) Erythritol is a low-calorie sweetener known as a sugar alcohol. It is used in combination with stevia to provide a more balanced sweetness. Erythritol was created in 1848 by a British chemist named John Stenhouse from a number of different plant-based sources, including sugar beets and corn cobs, and was commercialized in the 1970s in Japan.
Why do stevia and erythritol need to be combined?
(HINT: Some things are sweeter than others …) Stevia can be up to 300 times as sweet as sucrose, or table sugar. The receptors on people's tongues cannot process this amount of sugar at once, which is why stevia can actually have a bitter taste. Bai uses erythritol, which is less sweet, in combination with stevia to minimize the bitterness from the super-sweet herb.
Why is erythritol called a sugar alcohol? Does it actually contain alcohol?
(HINT: It's all about great chemistry …) The name is derived from the fact that erythritol's chemical compositions partially resemble a sugar and partially resemble an alcohol. But it's not an alcohol in the commonly understood sense - erythritol doesn't contain ethanol, which is the ingredient in alcoholic beverages that actually gets you drunk!
Besides the flavor balance, what are the advantages of Bai's use of erythritol?
(HINT: Low GCI is A-OK …) Erythritol is low on the Glycemic Index (GI),an important measure of how certain foods affect blood-glucose levels. There are 9 grams of total carbohydrates per serving in Bai - 8 of those come from erythritol. Unlike other sugar alcohols (with names such as xylitol, sorbitol, mannitol and maltitol), most erythritol is absorbed into the bloodstream and then, for the most part, excreted unchanged in the urine. This accounts for its low-calorie impact.
More foods and beverages are referencing "low GI" - What does that mean?
(HINT: Keep blood sugar on the down-low …) The Glycemic Index (GI) measures how a carbohydrate-containing food raises blood glucose. A low GCI level (also referred to as "glycemic load") associated with particular foods or beverages indicates that they deliver a steadier, healthier absorption of sugars into the bloodstream - avoiding the jarring spikes and crashes in blood-sugar levels that create higher levels of stress on the body and lead to constant cravings for more sugar. The GI level of foods and beverages has long been an important measure for people who are concerned about blood sugar levels or are following low-carb diets. In recent years, the GI level has become a topic of more common concern among health-conscious consumers.
Their farmers are family
Bai's purchasing and use of the coffeefruit supports long-term economic opportunities for coffee producers in remote, relatively poor regions. They have met and forged relationships with the hardworking men and women who've nurtured coffee production for generations. Now, each crop of coffeefruit - and bottle of Bai - represents a brighter future for the coffee families of Indonesia. Their use of the coffeefruit's outside also lessens some botanical waste from streams and soil in coffee-growing regions. This helps strengthen the land and lives of the people and species that co-exist there.

Imagine a world full of flavor and packed with goodness.
This is their envisioned future. They are working every day to make this world a reality. It's a world where doing what's right doesn't mean sacrificing enjoyment. A world where flavor and natural goodness go hand in hand. A world of beverages without borders - with no limits on taste, geography or imagination.
Everyone at Bai is committed to bringing this world to life. They are in the throes of a "revolution" and they want to bring everyone along on their journey, because they know this is a world in which they all want to live. Bai's core values guide us in their quest. They are unwavering challengers - audaciously declaring that they're not satisfied with conventional wisdom and status quo. They are impassioned explorers - relentlessly searching to unearth the best that nature has to offer. They are uninhibited dreamers - obsessively creating new realities that others could never see. And with every sip you take, they all are one step closer to their envisioned future.


About BAI

Every one of them report directly to your taste buds. They don't work for anybody. They work for your body. Their customers are their board of directors. You are their most important priority and the focus of all their energy. You are their inspiration. Every thought they have, every idea they develop and every action they take are all focused on the beverage in your hand. They are driven to make sure that every sip of Bai is a perfect blend of purity and flavor - of goodness and greatness. All for you. They look for what can't be done. And do it.
Remember what your Mom and Dad always said? "Don't be so disruptive! Wait your turn! Be sensible!" Well, sorry, it turns out they weren't listening. You can't combine amazing flavor and nature's goodness? Bai does. You can't make real connections with consumers if you're not part of the machine? They have. You can't change the rules of the game? That's what they're doing every day. Their goal is to inspire people to rethink what they drink. And they're drawing their own map to get there. They take their products seriously. And sometimes, their selves.
Every flavor of Bai is designed to bring a smile to your face - just like the ones they had when bringing it to you. Bai is committed to creativity, focused on fun and wedded to whimsy. (And awesome at alliteration!) But they're fiercely determined to make the best beverages in the world. That's why they're on the bottling line at 3 a.m., testing each batch for perfection. Why they're still on their feet at closing time, ensuring everyone who wants a sample leaves full of flavor. And why they're always at the drawing board, cultivating their next great idea. Because at Bai, fun is serious business.
They fight for the love of flavor.
Flavor is the mark they leave on the world. That's not just about the distinctive deliciousness you find in every sip of their beverages - that's the mark of everyone who worked to bring it to you. Flavor is about more than just great taste. It's the outward impression that speaks for everything on the inside. Refusing to be dull, challenging convention, setting trends, carrying passion into every moment of their work - those are the flavors that flow into every beverage. Their flavors are their foundation.