Warning: This product is not currently available at any store.
Click the button above and PricePlow will email you when the first store has it in stock!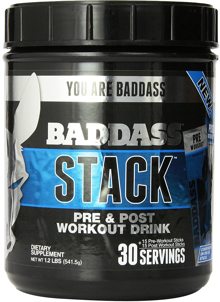 Pre & Post Workout Drink
Accelerates Absorption of Nutrients to Maximize Your Workout*
Maintains an Optimal Level of Nitrogen Retention to Build and Replenish Muscle*
Pre/Post Workout in One, Two-Part Product
No Need to Stack Your Own Formula, We've Done the Hard Work for You
The Most Premium Ingredients on the Market in One Place for Optimum Results*
Contains 12 Uniquely Formulated Matrices, to Make You Bigger, Faster, Stronger*
The lines you stand in are always short. Each step you take is the right step even with your left foot, which is why you Stack. Baddass Stack is your one-stop shop for all things muscle, combining the benefits of the leading pre- and post-workout supplements into a single, two-part product.To make it simple - Stack punishes your workout. By accelerating absorption, uptake and utilization of nutrients while maintaining an optimal level of nitrogen retention, Stack does the heavy lifting (and the mixing) for you, so you can focus on more important things - like world domination. Or whatever. You don't drink supplements. You drink results. You Stack. You Are BADDASS.*
There is No BS in BADDASS
One Product, Two Parts
You're not easily fooled. You know there are other options out there for your workout supplements. But if you've done your homework, you know that no single product contains all of the best ingredients in one place. That is, before Baddass Stack was created. Our formulators had results in mind when they created Baddass Stack, taking the most effective ingredients on the market, and combining them into this single, two-part product.
Quality
The reason no one has ever made a formula like this before, is a simple lesson in economics. Cost of goods. Stack is in a category of its own, simply because it is too expensive for most retailers to produce. Baddass is not afraid of expense, because we believe the expense is an investment in you, our athlete. We also believe in producing products that do what we say they will do. Integrity is the core of the brand and the products.
Convenience
The second reason to choose Baddass Stack is that of convenience. Your time is important, and we respect that. That is why we created Stack with no mixing necessary. We have taken the very best in pre and post workout drinks so you get exactly what you need to make the most of your time during your workout.*
Pre
Stack's Pre bangin' fruit punch flavor fuels muscles so you can put in and get out the most of your workout. With staples like Creatine, Beta Alanine and Caffeine, Stack Pre also contains unique, premium ingredients like Velvet Deer Antler, four types of Arginine, and Tribulus Terrestris. Formulated with a time-released maxi-carbs transport system, Stack doesn't just contain the right ingredients. It gets them where they need to go so your muscles sustain and build upon their Baddass qualities.*
Post
Stack's Post is a Baddass grape flavor. The staples are all there. Glutamine, Arginine, and Beta Alanine - but Stack's Post goes one step further to deliver the best recovery experience possible. Stack Post contains CarnoSyn, to delay muscle fatigue as well as BCAAs, which aid with muscle repair. You tear it down, so you can rebuild it even stronger the next time. You are the architect of your body, and Stack Post is your contractor.*