Warning: This product is not currently available at any store.
Click the button above and PricePlow will email you when the first store has it in stock!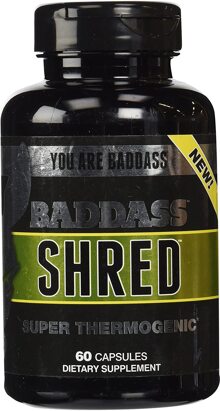 Swipe left/right to reveal product information
Super Thermogenic
Contains Several Clinically Studied Fat Burning Ingredients
Raspberry Ketones, Green Coffee Bean, and Yohimbine
Suppresses Appetite and Boosts Energy to Aid with Weight Loss*
Stimulates Lean Muscle Growth While Burning Stubborn Fat*
120mg of Caffeine per Serving, to Aid with Energy Without Causing Jitters*
Carefully Formulated with Clinically Studied Ingredients for Ultimate Fat Shredding*
Like a wrecking ball to a bad 60s high-rise, Baddass Shred's thermogenic formula burns away your excess fat with vengeance that's only matched by a mob boss out for revenge. The secret to Shred is in our attention to the little things- the precision of its formulation.
Combining clinically studied fat burners like Raspberry Ketones, Green Coffee Bean and Yohimbine with Caffeine, this is no off-the-shelf supplement. Trust us. This is our Michelangelo, and you are the Sistine Chapel. Of course, you already know this. You're not afraid of to take on more responsibility. You never forget that you're in control. Your commitment to change is a four-letter word: Done. When you conceive a goal, you're unstoppable. You Shred. You Are BADDASS.*
Shred Ingredient Breakdown
There is No BS in BADDASS
Others may have let themselves go, but you know the only place where you want extra weight is on your shoulders. So, naturally, you've met Baddass Shred.
Baddass Shred is a completely original, super thermogenic with clinically studied ingredients shown to burn fat and improve muscle composition. So basically, you're getting a two for one.*
Yohimbine
Yohimbine is just one of the ingredients used in Baddass Shred. Clinically studied, the Yohimbine receiving group lost more weight than the placebo group. Since it is also an aphrodisiac, you might burn some additional calories there as well. Just saying.*
Bacopa Monnieri
Shred also contains Bacopa Monnieri, a proven antioxidant that has also been shown to boost muscle recovery. Add in its properties that boost thyroid levels, and Shred becomes a metabolism-boosting, fat-killing machine.*
Green Coffee and Raspberry Ketones
Of course it is important to mention fat burning staples like Green Coffee and Raspberry Ketones. Green Coffee is high in Chlorogenic acid, a well-known fat burner and metabolism booster. Equally important are the properties found in Raspberry Ketones. In a recent clinical study, Raspberry Ketones were shown to prevent and improve obesity and fatty liver. The fat prevention is made possible because Raspberry Ketones alters the lipid metabolism in white adipocytes. Believe us, it's good stuff.*