Warning: This product is not currently available at any store.
Click the button above and PricePlow will email you when the first store has it in stock!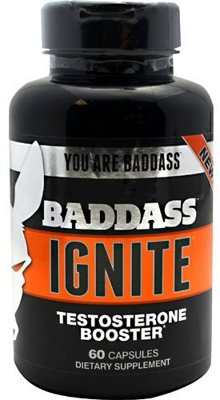 Testosterone Booster*
Boosts Testosterone and Libido Levels*
Incites Passion and Strength*
Promotes Lean Body Mass While Decreasing Fat*
Acts as a Powerful Antioxidant*
Unique, Powerful Blend with Epimedium, SerinAid, Tribulus Terrestis, and Velvet Deer Antler
Stimulates and Supports Naturally Diminishing Testosterone Levels Common in Men Over 20
Flaunt your boldness and experience with Baddass Ignite's unique blend. Boosting testosterone, lean body mass and libido all while decreasing body fat; Ignite is the authority on manhood. The unique blend of Epimedium, Tribulus Terrestris, SerinAid and Velvet Deer Antler allow Ignite to act as an anti-oxidant, and stimulate muscle growth all while increasing your desire to fire up the barbeque and organize a game of tackle football without pads.*
Ignite Ingredient Breakdown
There is No BS in BADDASS
You aren't afraid to get your hands dirty. You can light a campfire without wood or matches. Your inner passion drives you, and everyone around you, which is why Baddass Ignite speaks your language.
Carefully formulated with original, natural ingredients - Baddass Ignite gives you the boost you need to spur testosterone, and improve libido. Let's talk specifics.*
Epimedium
One of Ignite's ingredients is Epimedium, which contains active ingredient Icariin. Icariin works by increasing nitric oxide levels, thus relaxing smooth muscle. It is also a natural way to boost sexual passion, which never hurts.*
SerinAid
But Ignite's ingredients go beyond just providing a natural aphrodisiac. Ignite contains SerinAid, a patented ingredient which plays a critical role in maintaining and improving mental performance. In addition to mental performance, SerinAid can improve mood and help lower stress levels. Not that a Baddass ever gets stressed.*
Tribulus Terrestris
Tribulus Terrestris is another natural ingredient found in Ignite. This ingredient is especially helpful for Post Cycle Therapy. After an intense anabolic-steroid cycle, Tribulus can help restore the body's natural testosterone levels. In addition, Ignite's ingredient Velvet Deer Antler's properties have been used for anti-aging and athletic enhancing. It can increase mental and physical energy, strength, and endurance - also helping to reduce stress. We know, there are some pretty kick-ass ingredients in Ignite.
So take Ignite anytime you need to release that core, animalistic strength lying dormant beneath your polished, Italian-suit wearing self. With Baddass Ignite, you see the future, and you like what you see because you are taking the wheel. Your inner fire burns you. You Ignite. You Are BADDASS.*