Warning: This product is not currently available at any store.
Click the button above and PricePlow will email you when the first store has it in stock!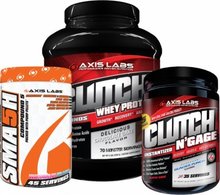 Axis Labs Ultra Clutch Radical Stack
RECOVER
RE-ENERGIZE
REBUILD
SMA5H COMPOUND 5
SMA5H COMPOUND 5. The mind focusing, muscle stimulating, performance enhancing pre-workout from Axis Labs.* Push yourself to the edge and achieve your goals the most effective way possible—with products engineered from the highest quality sources, scientifically constructed blends and practicality of application. Each ingredient has a purpose and is tailored to exact dosages for maximum performance by addressing the five critical factors of athletic potential.* SMA5H COMPOUND 5 is designed to enhance physical performance and augment mental acuity so you can get the most out of your workouts*
CLUTCH N'GAGE
Axis Labs CLUTCH N'GAGE is the Recovery/Anabolic/Anti-Catabolic Solution for optimal performance.* N'GAGE is loaded with premium grade amino acids including the ever so important, Branch Chained Amino Acids (BCAAs) and Glutamine. Taken post-workout, CLUTCH N'GAGE rapidly propels reparative nutrients to exercise-damaged muscles.* Taken mid-day, CLUTCH N'GAGE floods repairing tissues with a second dose of muscle-generating and energy-sustaining fuel.*
CLUTCH Whey Protein
Whether you are a serious bodybuilder or just trying to get in shape whey protein is the single most important supplement in building mass and plays a large role in a healthy lifestyle.* Axis Labs Clutch Whey Protein contains a potent anabolic blend of Whey Protein Concentrate, Whey Protein Isolate and Hydrolyzed Protein. Each serving of Clutch provides 24 grams of protein and all the essential amino acids needed daily to promote serious lean muscle growth.*
When we came up with the ULTRA CLUTCH RADICAL STACK, we wanted it to be ... well, RADICAL! And to further validate this, we've asked our CEO, Axis Rex, what his thoughts were.
... Well said Axis Rex, well said ...