Warning: This product is not currently available at any store.
Click the button above and PricePlow will email you when the first store has it in stock!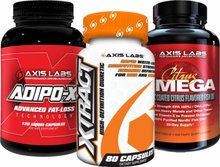 Axis Labs The Ultimate Shredded Stack
The Ultimate
Shredded Stack
This is a triple-factor solution for engaging the major pathways that support a lean, fit physique. First, high-powered ADIPOX aggressively attacks body fat on multiple fronts.* Key ingredients in this dynamic formula help to burn fat, inhibit fat storage, help preserve lean muscle, and control hunger cravings.* Next, high potency, premium quality Citrus Omega with triple strength EPA/DHA supports overall fitness, inside and out. DHA/EPA oils, like those found in Citrus Omega, promote cardiovascular health, body fat reduction, and fat absorption, plus joint health.* Finally, XTRACT High-Definition Diuretic functions as the perfect complement to a fat-burning regimen by helping fitness enthusiasts to become truly "ripped" and "dialed in." XTRACT helps to safely eliminate excess fluids that tend to "smooth out" and obscure muscle definition.*
FEEL GOOD ENERGY YOU CAN'T IGNORE
In the last couple years, there has been an influx of products to the market that just make you feel miserable when you take them. This is mostly due to improper formulating. A word of advice to the competition; caffeine is good ingredient, but only in moderation. You're going to be a little more creative than producing over formulated caffeine pills. For the good folks looking for real fat- loss results, do them a favor and send them our way. Adipo-X is precision formulated to support healthy mood, which may help support your mental and emotional strength to lose those ugly pounds!*
DON'T BURN MUSCLE, INSTEAD BURN FAT!
Adipo-X contains key ingredients like Coleus Forskohlii that may help preserve muscle, which will help you burn fat through a longer period of time.*
CONTROL YOUR APPETITE
Adipo-X helps support a healthy appetite level so you may eat less without feeling starved.* More importantly, when you eat less, you drastically slow your calorie intake. Less calories in your system means less fat to appear and less energy from food to burn. Turn your source for energy inward and support burning that stubborn, unsightly fat!*
WHEN WE SAY "NO CRASH", WE MEAN "NO CRASH"*
THE XTRACT ADVANTAGE
Water Loss*
Competition Strength*
Helps Gets You Ripped and Dialed-In*
For Both Men and Women
HyperDry Infusion
The HyperDry Infusion works to effectively reduce excess fluids with herbal extracts standardized to their active compounds.* Dandelion root, Horsetail, and Arctostaphylos Uva Ursi work to reduce excess water without depleting the electrolytes sodium and potassium.* Additional water loss herbal compound extracts such as Juniper Berry, Buchu Leaf and Stinging Nettle are also added.
Electrolyte Infusion
The Electrolyte Infusion system offers an effective blend of key electrolytes to help ensure that the HyperDry Infusion offers balanced fluid reduction.* Efficacious levels of the minerals calcium, potassium and magnesium promote natural fluid balance, strong nerve transmissions and muscle-pumping cell volumization.*
Citrus Omega - Enteric Coated Citrus Flavored Fish Oil
Triple Strength EPA (40%) / DHA (20%)
Free From Heavy Metals and Other Toxins
Added Vitamin E to Prevent Oxidation
100% Purified Nordic Fish Oils
30-Day Supply
Citrus Omega is a Nordic fish oil that is 40% EPA and 20% DHA. Among the health promoting properties of EPA and DHA, fish oils allow for: less absorption of fat, support for cardiovascular health, support for healthy joints and body fat reduction.* In addition to its impressive profile, Citrus Omega is enteric coated and citrus flavored so they smell and taste much better than its cheaper counterparts. The citrus enteric coding also prevents fishy burps, which are common with fish oil softgels. Lastly, Citrus Omega is also free from heavy metals, contaminants and to help prevent oxidation, Citrus Omega is fortified with Vitamin E so you can be sure you are getting the highest quality.
Ultimate Stack Usage Charts
THE ULTIMATE SHREDDED STACK
SUGGESTED PRODUCT TIMING
PRODUCT
PRE-
BREAKFAST
BREAKFAST
MID MORNING
EARLY - MID AFTERNOON
DINNER
ADIPOX
1 or 2 caps*† 30 - 60 minutes before breakfast with 8oz (236 mL) of water
 
 
1 or 2 caps*† 30 - 60 minutes before breakfast with 8oz (236 mL) of water
 
CITRUS OMEGA
 
2 softgels with 8oz (236 mL) water
 
 
2 softgels with 8oz (236 mL) water
XTRACT
 
 
4 Capsules with 16oz of water
4 Capsules with 16oz of water
 
*As a dietary supplement, start with a 1 capsule serving to evaluate tolerance and gradually increase to a full 2 capsule serving.
†Do not exceed 4 capsules in a 24 hour period. Do not take 6 hours prior to bed because ADIPO-X™ may interfere with sleep. Read entire label before using.