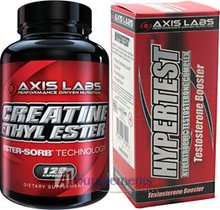 Axis Labs Performance Stack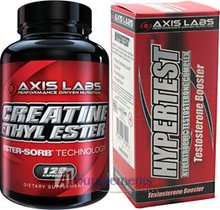 Axis Labs Performance Stack
HyperTEST, 120 CapsulesSkyrockets Natural Testosterone Levels!There is no other hormone in the body that stimulates muscle growth
and sex drive like testosterone. HyperTEST is the solution to efficiently and naturally spike your testosterone levels to an all time high, for a safe and effective anabolic response. HyperTEST is the most comprehensive testosterone boosting complex on the market. Prepare yourself for the ultimate new you: More Lean Mass, Impressive Strength Gains and a More Robust Sex Drive in the bedroom.
HyperTEST Highlights:
1000mg of Super Potent Bulgarian Tribulus Terrestris
Powerful Free Testosterone Complex
Adaptogenic Ingredients for Optimum Body Functions
Skyrockets Natural Testosterone Levels
Promotes Improved Body Composition
Increases Lean Muscle Mass
Ramps Up Strength Gains in the Gym
Heightens Sex Drive
Creatine Ethyl Ester HCL, 120 CapsulesSignificant Absorption Means Impressive Results!Axis Labs has just exhausted the competition.
Creatine Ethyl Ester HCl is an exceptionally soluble creatine resulting in advanced absorption, increased bioavailability, and stability. Instead of saturating your system in creatine and hoping for absorption, creatine ethyl ester directly penetrates the muscle cell resulting in 30 to 40 times more functional creatine. This means no more loading, bloating, cramping or dehydration. Most users notice a difference in their first dose.
Supplement Facts:
To view label for HyperTEST, 120 Capsules
click here
To view label for Creatine Ethyl Ester HCL, 120 Capsules
click here
Disclaimer: Manufacturers continually change product specifications. While we try our best to keep product descriptions up to date, they do not necessarily reflect the latest information available from the manufacturer. We are not responsible for incorrect or outdated product descriptions and/or images.
These statements have not been evaluated by the Food and Drug Administration. This product is not intended to diagnose, treat, cure, or prevent any disease.