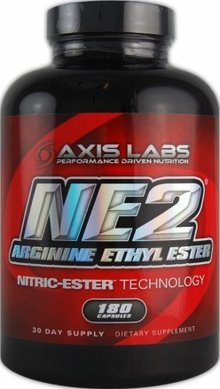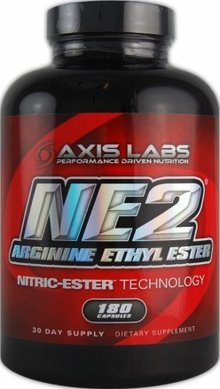 NE2 Ester-Sorb Technology
Take Nitric Oxide Pump to the next level with Ester-Sorb Technology.
Axis Labs is at the forefront of biochemical supplement engineering, and we have released an amazing nitric oxide stimulating product. Proclaimed as one of the most stable and powerful nitric oxide products on the market, NE2 is finally here. NE2's potent nitric oxide effects quickly render old school nitric oxide products obsolete.*
NE2 Highlights:
The Strongest Nitric Oxide Product on the Market*
More Skin Bursting Pumps than Ever Before*
Deeper Muscle Simulation*
Easily Absorbed in the Digestive Tact*
More Resistant to Chemical Breakdown*
Great for Nitric Oxide Non-Responders*
Here's How it Works:
NE2 (Arginine Ethyl Ester Di-Hydrochloride) is composed of an arginine molecule that is more easily absorbed and more resistant to chemical breakdown in the body. It is an arginine derivative, so the performance enhancing effects will be similar to those of other regular arginine products, but many times stronger.*
It is well known that other arginine products are effective for promoting muscle growth and enhancing the "pump" you get from working out. Muscle growth and cellular function are positively influenced by arginine, via the NO pathway. But other arginine products are limited in their effectiveness. Limited absorption through the intestine has plagued other arginine products since they were first released. Regular L-arginine is rapidly degraded in the intestine, leaving only trace amounts of the ingested dose active. Because of the rapid breakdown of L-arginine in the intestine, its ability to promote muscle growth is very limited. Time release formulas and arginine alpha-ketoglutarate (AKG) molecules were developed to combat the limited absorption of L-arginine, and these formulas are somewhat effective methods of arginine supplementation. NE2 has been developed and vigorously tested, and NE2 provides an amazingly effective way to experience the benefits of arginine supplementation, better than anything that has been previously developed.*
The reason NE2 is much more effective than other nitric oxide products is the ethyl ester added to the arginine molecule. The ethyl ester makes the arginine less polar and therefore more easily absorbed in the digestive tract. Because of this design, NE2 can pass through the intestine largely intact without the need of traditional amino acid transport. The ethyl ester also protects the arginine molecule from rapid degradation, and therefore makes it much more effective in smaller doses than other nitric oxide products. NE2 is superior in design to all other current arginine products on the market and after one week of use, you will experience the difference! If you are ready for crazy skin bursting pumps and record muscle growth, then you are ready for NE2.*
For best results, use in conjunction with a high protein, low fat diet. NE2 can be stacked with Axis Labs Creatine Ethyl Ester HCl for added benefit.*
References
Acosta, E. P. and C. V. Fletcher (1997). Valacyclovir. Ann Pharmacother 31(2): 185-91.
Albina JE, Mills CD, Barbul A, Thirkill CE, Henry WL Jr, Mastrofrancesco B, Caldwell MD. Arginine metabolism in wounds. American Journal of Physiology 1988;254:E459-E467.
Alternative Medical Review. 2002, Dec;7 (6):512-22.
Appleton, J. 2002. Arginine: Clinical potential of a semi-essential amino.
Beaumont, K., R. Webster, I. Gardner and K. Dack (2003). Design of ester prodrugs to enhance oral absorption of poorly permeable compounds: challenges to the discovery scientist. Curr Drug Metab 4(6): 461-85.
Chang, Y., Kang, S., Ko, S., Park, W. (2006). Pretreatment with N-nitro-L-arginine methyl ester improved oxygenation after inhalation of nitic oxide in newborn piglets with Escherichia coli pneumonia and sepsis. J Korean Medical Science 21: 965-72.
Cochard A, Guilhermet R, Bonneau M. Plasma growth hormone (GH), insulin and amino acid responses to arginine with or without aspartic acid in pigs. Effect of the dose. Reprod Nutr Dev 1998 May-Jun;38(3):331-43.
De Clercq, E. and H. J. Field (2006). Antiviral prodrugs - the development of successful prodrug strategies for antiviral chemotherapy. Br J Pharmacol 147(1): 1-11.
Eksborg, S., N. Pal, M. Kalin, C. Palm and S. Soderhall (2002). Pharmacokinetics of acyclovir in immunocompromized children with leukopenia and mucositis after chemotherapy: can intravenous acyclovir be substituted by oral valacyclovir? Med Pediatr Oncol 38(4): 240-6.
Han, H., R. L. de Vrueh, J. K. Rhie, K. M. Covitz, P. L. Smith, C. P. Lee, D. M. Oh, W. Sadee and G. L. Amidon (1998). 5'-Amino acid esters of antiviral nucleosides, acyclovir, and AZT are absorbed by the intestinal PEPT1 peptide transporter. Pharm Res 15(8): 1154-9.
Han, H. K., D. M. Oh and G. L. Amidon (1998). Cellular uptake mechanism of amino acid ester prodrugs in Caco-2/hPEPT1 cells overexpressing a human peptide transporter. Pharm Res 15(9): 1382-6.
Jeevanandam M, Petersen SR. Substrate fuel kinetics in enterally fed trauma patients supplemented with Arginine alpha ketoglutarate. Clin Nutr 1999 Aug;18(4):209-17.
Jonas, A. J. and I. J. Butler (1989). Circumvention of defective neutral amino acid transport in Hartnup disease using tryptophan ethyl ester. J Clin Invest 84(1): 200-4.
Kim, D. K., N. Lee, H. T. Kim, G. J. Im and K. H. Kim (1999). Synthesis and evaluation of 2-amino-6-fluoro-9-(4-hydroxy-3-hydroxymethylbut-1-yl)purine mono- and diesters as potential prodrugs of penciclovir. Bioorg Med Chem 7(3): 565-70.
Kim, D. K., N. Lee, Y. W. Kim, K. Chang, G. J. Im, W. S. Choi and K. H. Kim (1999). Synthesis and evaluation of amino acid esters of 6-deoxypenciclovir as potential prodrugs of penciclovir. Bioorg Med Chem 7(2): 419-24.
Mizen, L. and G. Burton (1998). The use of esters as prodrugs for oral delivery of beta-lactam antibiotics. Pharm Biotechnol 11: 345-65.
Okudaira, N., T. Tatebayashi, G. C. Speirs, I. Komiya and Y. Sugiyama (2000). A study of the intestinal absorption of an ester-type prodrug, ME3229, in rats: active efflux transport as a cause of poor bioavailability of the active drug. J Pharmacol Exp Ther 294(2): 580-7.
Reyes AA; Karl IE; Klahr S Role of arginine in health and in renal disease. American Journal of Physiology, 1994 Sep, 267:3 Pt 2, F331-46
Reeves, J. P. (1979). Accumulation of amino acids by lysosomes incubated with amino acid methyl esters. J Biol Chem 254(18): 8914-21.
Reeves, J. P. and T. Reames (1981). ATP stimulates amino acid accumulation by lysosomes incubated with amino acid methyl esters. Evidence for a lysosomal proton pump. J Biol Chem 256(12): 6047-53.
Sawada, K., T. Terada, H. Saito, Y. Hashimoto and K. I. Inui (1999). Recognition of L-amino acid ester compounds by rat peptide transporters PEPT1 and PEPT2. J Pharmacol Exp Ther 291(2): 705-9.
Wellner, V. P., M. E. Anderson, R. N. Puri, G. L. Jensen and A. Meister (1984). Radioprotection by glutathione ester: transport of glutathione ester into human lymphoid cells and fibroblasts. Proc Natl Acad Sci U S A 81(15): 4732-5.