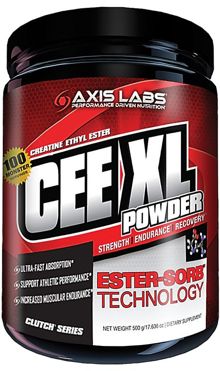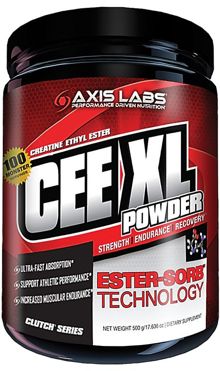 Boost Strength, endurance, & Recovery!*
Support Athletic Performance!*
No Loading Necessary!*
LEARN WHY
CREATINE EATHYL ESTER HCL

IS AN ABSOLUTE MUST
The Power of Creatine
Multiplied
Creatine ethyl ester, also known as creatine ester, cre-ester and CEE, is a creatine developed for athletic performance and for muscle development in the body. It is an ethyl ester derivative of creatine, from which it is made. As a supplement, the compound was developed, patented and licensed through UNeMed, the technology transfer entity of the University of Nebraska Medical Center.
Researchers at the University of Nebraska Medical Center have identified an ethyl esterfication process and molecule (Creatine Ethyl Ester or CEE) that has an aqueous solubility more than 30 times that of creatine monohydrate. CEE does not undergo conversation to creatinine in the stomach and is more readily absorbed in the intestine.
THE PROCESS AND
COMPARATIVE DIFFERENCE
STOMACH
intestines
blood
muscle
creatine Monohydrate
CREATININE
CREATININE
CREATININE
creatine ethyl ester
creatine ethyl ester
creatine ethyl ester
creatine ethyl ester
creatine Phosphate
United States Patent Application Publication Pub. No.: US 2007/0203076 A1
Axis Labs acquired licensing rights under the University's worldwide patent portfolio directed to creatine ethyl ester as a nutritional supplement. The patented technology was developed at the University by faculty member Dr. Jonathan Vennerstrom, a Professor and the Interim Chair of Pharmaceutical Sciences at the University, and former faculty member Dr. Donald Miller, now an Associate Professor with the Department of Pharmacology & Therapeutics at the University of Manitoba.
Creatine is a nitrogenous organic acid that restores ATP and helps generate muscle. In vivo, creatine is produced by the liver and/or obtained through the consumption of meat. Daily turnover of endogenous creatine, coupled with inefficient transfer of dietary sources of creatine have caused some weightlifters and vegetarians to become deficient in their stores of creatine. Supplements such as creatine monohydrate can be taken, but bioavailability issues require large quantities of creatine to be taken for a small amount to be absorbed.