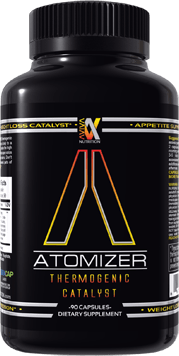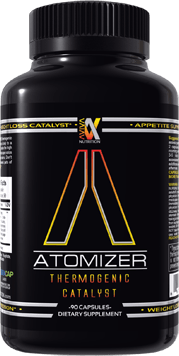 ATOMIZER is the XTREME weight loss supplement designed to boost*:

Thermogenic Catalyst*
Appetite Suppression*
Focus & Energy Production*

ATOMIZER contains the purest and most exotic legal stimulants and fat melting ingredients available today.* ATOMIZER helps you to focus on exactly what you want, VAPORIZE unwanted body fat, while giving you FOCUS, ENERGY and APPETITE SUPPRESSION.* Use ATOMIZER to loose pounds and get though the day.*

Atomizer Supplement Facts:
Serving Size: 1 Capsule
Servings Per Container: 90

Amount Per Serving: %DV

ATOMIZER XTREME: 665mg **
N-Acetyltyrosine, Caffeine, White Willow (Bark) Extract, (std, 15% Salicin), Amperall (2-amino-4-methylpentane) Citrate, Dendrobium nobile, (stems and Aerial Parts) 25:1 Extract, Bitter Orange (Fruit) Extract (std. 30% Synephrine)

**Percent Daily Value Not Established

Other Ingredients: Dicalcium Phosphate, Gelatin (capsule), Magnesium Stearate

Suggested Use: As a dietary supplement,assess your tolerance level by consuming 1 capsule of Atomizer in the AM with 8oz of water and food for 3-5 days. After performing the test, you may consider 1 additional capsules of Atomizer later in the day.

*These statements have not been evaluated by the Food and Drug Administration. This product is not intended to diagnose, treat, cure or prevent any disease.