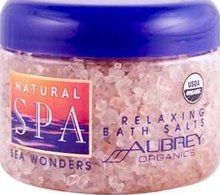 Aubrey Natural Spa Sea Wonders - Relaxing Bath Salts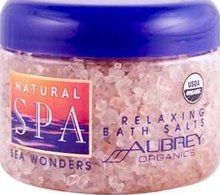 Aubrey Natural Spa Sea Wonders - Relaxing Bath Salts
Natural Spa Sea Wonders - Relaxing Bath Salts Description from Aubrey
Tranquil, relaxing aromatherapy for your bath, formulated with 100% certified organic ingredients, including moisturizing jojoba oil and relaxing geranium and sweet orange oils.
Ingredients:
Sea Salt, Organic Aloe Vera, Organic Jojoba Oil, Organic Geranium Oil, Organic Sweet Orange Oil.
Manufacturer's Directions
Dissolve a handful of bath salts under warm running water as you draw your bath. Soak away the day's tensions and let this soothing potion go to work all over, then rinse off.
Manufacturer's Disclaimer
This product contains sea salt. Do not use directly after shaving or on broken skin. Keep away from eyes.