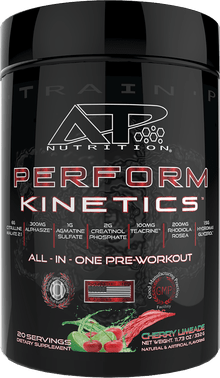 ATP Nutrition Perform Kinetics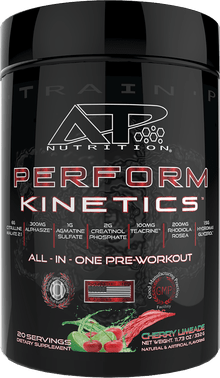 ATP Nutrition Perform Kinetics
ATP Nutrition Perform Kinetics News
We're going to put this plainly and let the numbers do the talking. We are Aspire. Train. Perform. (ATP) Nutrition, and this is our Pre-Workout Perform Kinetics. ALL of our products are clinically dosed, loaded with efficacious ingredients that work synergistically with one another, 100% transparent AND biochemically formulated. Take Perform Kinetics for example, it boasts a whopping 22 clinical citations to back its efficacy!
17g of ingredients in ONE scoop. Yes, you read that correctly, but just in case you still don't believe it. 17g of ingredients per scoop and we're not talking cheap creatines, space fillers to "add" to the scoop size or ingredients that work a month from now. We're talking about a powerful, all-in-one, 100% immediate acting ingredient loaded product that delivers skin-splitting pumps, long-lasting endurance, mind-bending focus and powerful, clean, mood-boosting energy that LASTS!
Nowadays with the majority of what's being produced it would take you two to three scoops to match our 1! Even if you split our product in half, doubling the serving size per tub, you would still get more than one scoop of most of the nonsense out there OR you would be forced to buy 2 products to match our 1! We recommend ½ scoop serving size for those that are stimulant sensitive and to assess your tolerance to our specific formula and a full scoop for those that need the full dose to get going!
The real reason that our product is getting the attention and feedback it has been, is due to our unique biochemical formulation style. Take the SynerStim and CerebroFocus matrices for example. By including a powerful stimulation AND focus matrix we are able to create a product that can and DOES satisfy the majority of users types – those that like a mid-stimulant to high-stimulant experience!
Every ingredient in this formula crosses over to one or all of the matrices directly or indirectly working together to provide a one-of-a-kind, never felt before experience!
Biochemically Formulated
Clinical Dosing
No Proprietary Blends
Synergistic Ingredients
Supplements Created For
The Fitness Lifestyle!
SUPPLEMENT FACTS

Serving Size: 1 Scoop (17g)

Servings Per Container: 20

Amount Per Serving

% Daily Value*

Niacin

30mg

150%

MultiPath Pump Matrix

Citrulline Malate (2:1)

6g

**

Hydromax Glycerol Powder 65%

1.5g

**

Agmatine Sulfate

1g

**

N-Acetyl-L-Cysteine (NAC)

600mg

**

Active Endure Matrix

Creatinol-O-Phosphate (COP)

2g

**

Taurine

2g

**

Rhodiola5Plus (Rhodiola Rosea)

200mg

**

CerebroFocus Matrix

AlphaSize A-GPC

(Alpha-Glyceryl Phosphoryl Choline)

300mg

**

Huperzine A 1%

10mg

**

SynerStim Matrix

Infinergy Di-Caffeine Malate

150mg

**

Caffeine Anhydrous

100mg

**

TeaCrine (Theacrine)

100mg

**

Bioperine (Black Pepper Extract)(Fruit)

5mg

**

Rauwolscine (std min 90% alpha yohimbine)(root bark)

750mcg

**

%Daily Value Not Established**

%Daily Value Based on a 2,000 calorie diet*