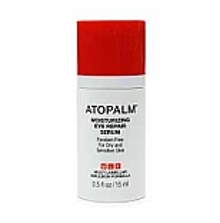 Atopalm MLE Moisturizing Eye Repair Serum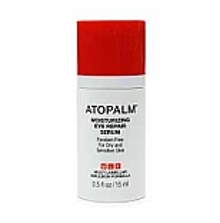 Atopalm MLE Moisturizing Eye Repair Serum
Atopalm Moisturizing Eye Repair Serum Description
Paraben Free
For Dry and Sensitive Skin
Multi Lamellar Emulsion Formula
Multi-defense formula provides a comprehensive therapy that helps fight fine lines, crows feet and wrinkles, making them less visible, while indulging dry and sensitive skin with ultra-moisturization. Eye Repair Serum has a noticeable tightening effect. Do not rub skin around eye area after application.
Unique paraben free, multi-benefit, patented, technology with concentrated infusions of specialty elements to help fight the visible signs of aging, provide anti-oxidant protection and ultra moisturization and leaves the skin looking brighter. Especially beneficial for dry and sensitive skin. Developed with a dynamic combination of exclusive ingredients. K6PC5, an activator that helps reduce the appearance of fine lines and wrinkles. Ascorbyl Phosphate Succinoyl Pentapeptide-12, a novel combination of Vitamin C and Peptide Fusion, a powerful anti-oxidant to defend the skin against environmental stress. Multi Lamellar Emulsion provides the ultimate in revitalizing skins' moisturization through the restoration of the skins' protective barrier. It also provides a stable delivery system for the combination of the exclusive ingredients to enable them to perform at their peak throughout the life of the product. Perfect for those who are ready for serious eye treatment with a unique combination of effective ingredients designed to address the visible signs of aging.
Directions
To Use: Apply a small amount to tip of ring finger. Pat gently under eye beginning from outer corner to bridge of nose. Repeat on upper lid along brow bone. Apply AM or PM as needed. Avoid direct contact with eyes.
Free Of Paraben. Disclaimer These statements have not been evaluated by the FDA. These products are not intended to diagnose, treat, cure, or prevent any disease.
Ingredient Facts