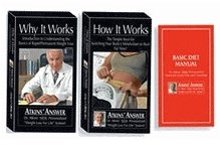 Atkins Atkins' Answers Video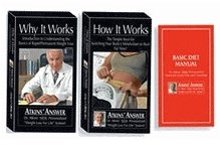 Atkins Atkins' Answers Video
Atkins' Answers Video Description from Atkins
This video package teaches the famous Atkins weight loss program so that anyone can understand and do the diet! The late Dr. Atkins talks directly to the viewer and, in an entertaining and illustrative fashion, teaches his famous weight loss techniques. The video lessons are fast, easy to understand, and powerfully effective! Now everyone can experience the Atkins diet first hand and receive professional consultation to solve, once and for all, your weight and health challenges!

Video 1: Why It Works - Understanding the Basics of Rapid and Permanent Weight Loss

Video 2: How It Works - The Simple Keys for Switching Your Body's Metabolism to Burn Fat Now!

Instruction Book: Basic Diet Manual also included!