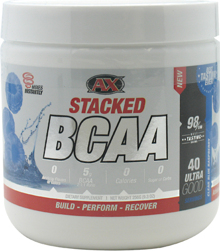 Athletic Xtreme Stacked BCAA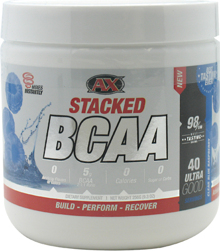 Athletic Xtreme Stacked BCAA
Sometimes you just want it pure. No gimmicky ingredients, no fillers. That's why Athletic Xtreme focused only on real branched chain amino acids in Stacked BCAA!
It's not out just yet, but below you can sign up for notifications above or below when it's ready. Until then, let's get ready:
The Big Three in AX's Stacked BCAA
Also known as proteinogenic amino acids, the BCAAs make up three of the nine essential amino acids for humans. That's nearly 35% of the needed amino acids to form muscle proteins or grow muscular tissue. They are essential amino acids because the human body can't synthesize it. You need to ingest branched chain amino acids daily.
Not only do they form building blocks of proteins for muscle tissue synthesis, each BCAA has a specific "hormonal" effect on the body.
---
Leucine
Athlecticx knows that this is the big boss of the three branched chain amino acids. Leucine is the only dietary amino acid that can increase or trigger muscle protein synthesis. That's because Leucine activates the mammalian target of rapamycin kinase. The mammalian target of rapamycin kinase is responsible for cellular growth and you want muscle cell growth to be activated for muscle mass gains.
Another benefit is the decrease of appetite via activation of the mTOR pathway. This makes Leucine a powerful ally in fat loss.
As an added benefit, Leucine also slows down muscle atrophy or degradation. You don't have to worry losing muscles if you can't go to the gym for various reasons. You can enjoy dating your wife, going out with kids or finishing work without worrying of muscle mass loss with Leucine in Stacked BCAA.
Recap: Leucine Benefits
Stimulates Muscle mass growth via activation of mammalian target of rapamycin kinase
Reduces hunger pangs and possibly reduce body fat/weight via activation of mTOR pathway
Prevents muscle atrophy allowing you to enjoy life outside the gym.
Of the three branched chain amino acids, Leucine is the most powerful which is why in each serving of Stacked BCAA; you're getting 2.5 grams of it. The RDA is 16 mg per Kilogram or 1.1 g for a 70 kg male. Athleticx helps you complete your RDA and gives you more to spare.
---
Isoleucine
This branched chain amino acid plays a big role in metabolism.
Isoleucine
is both a ketogenic and glucogenic. Essentially, it can provide a lot of energy for your workouts.
As a Ketogenic, Isoleucine can produce ketone bodies from the breakdown of fatty tissue. That's basically the burning of fats in your body! Longer lasting energy is produced from the fatty tissue and fed into your muscles.
Isoleucine is also a glucogenic. It helps breakdown other sources of stored energy such as glycogen into glucose for instant energy.
Another important benefit is that Isoleucine can speed up muscle repair when combined with the rest of the BCAA and other amino acids from your supplement stack.
Recap: Isoleucine Benefits
Increase in muscle strength through energy from fats and glycogen stores
Improve muscle tissue repair in conjunction with other BCAA and amino acids
Stacked BCAA gives you 1.25 grams per serving
Note: among the three, isoleucine requires that you take food or supplements rich in Biotin. Biotin is needed for the body to properly metabolize the amino acid and make it useful to the body.
---
Valine
Valine in Stacked BCAA can be considered as the "brain" among the three. Its benefits include keeping the immune system, nervous system and cognitive functioning healthy.
Other benefits of Valine include stimulation, normalized blood sugar levels and works with other amino acids to help muscle growth and repair.
Recap: Valine Benefits
Immune system health
Nervous system Health
Improved cognitive functioning
Stimulant
Muscle Growth and Repair with other BCAA and Amino Acids
Usual RDA is about 1 to 1.7 grams a day and Stacked BCAA already gives you about 1.25 grams per serving.
---
Three in One - Stacked BCAA Ratio
Athleticx combines all three branched chain amino acids in one bottle in a 2:1:1 ratio giving you maximum benefits. If one works, combining the three gives you more benefits as each BCAA works to complement each other. Stacked BCAA gives you maximum dosage in each serving to help you gain immense muscle mass and break through your bodybuilding plateaus.
References:
by Mike