Warning: This product is not currently available at any store.
Click the button above and PricePlow will email you when the first store has it in stock!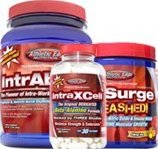 Athletic Edge Nutrition Ultimate Performance Stack
PreSurge Unleashed, IntrAbolic & IntraXCell - This is our most powerful and effective stack, yielding the greatest results in building muscle mass, increasing performance and supercharging your energy and focus. This is the ultimate muscle building stack.
What's In The Ultimate Workout Stack?
PreSurge
The pre-workout category is one of the oldest most cluttered categories in sports nutrition today. Sadly, if you look closely at the supplement facts panels of many of these products, you will see the same OLD SCHOOL formula that has been around since early 2000. And despite huge evolutions in sports nutrition research, these pre-workout formulas stay the same. We see NO reason to recycle old largely ineffective, outdated formulas, simply to try and make slight improvements, like other companies do. Staying true to our tradition of bringing out ONLY premium, innovative, uncompromised formulas, we are pleased to introduce PreSurge Unleashed!
Pre-Surge Unleashed Highlights:
Supports Nitric Oxide Synthesis & Vascularity with patented GlycoCarn*
Promote Blood flow, Engorging Muscles bringing on Muscle Fullness & Hardness*
Specifically Designed to Prime & Sensitize Your Muscles for The Anabolic Flood of Muscle Building Peptides & Amino-Acids brought about from our Intra-Workout IntrAbolic. Phase-2 in our Nutrient timing stack.
IntrAbolic
Bodybuilding is about Body – Building. During workouts, muscles are torn down and fatigue can be a tremendous challenge. By providing your muscles with effective nutrients DURING your workout, you will boost the anabolic response, fight the catabolic effects of exercise and delay muscular fatigue, ultimately leading to NEW muscle gains!
IntrAbolic Highlights:
Stimulate the Anabolic Response, Build Muscle FAST
Fight Muscle Breakdown, Boost Recovery
Boost Endurance & Explosive Muscular Strength
IntrAbolic-Peptides providing 70-80% rapidly absorbed, low-molecular weight di- and tripeptides
The AEN Performance Dose Guarantee
Shake and mix, NO blender needed
IntraXCell
Until now, creatine, with numerous research studies to support its effectiveness, was the leading supplement for improving exercise and muscular performance. Since creatine made its explosion into the sports nutrition world in the early nineties, our understanding of exercise physiology and sports nutrition has evolved exponentially. Recent research is giving rise to another supplement breakthrough…one that will change the direction of the industry like creatine did so many years ago. The research supported, IntraXCell* is THE next breakthrough supplement for increasing explosive strength, muscle mass and endurance.
IntraXCell Highlights:
(As supported by TWO research studies)
In 8 weeks, subjects gained 2lbs of Lean Body Mass (LBM) on average, with some subjects gaining up to 7lbs of LBM!
Boost Muscular Strength & Power Output
Delay Muscular Fatigue - Train Harder & Longer
No Bloating or Water-Retention
---
How To Use This Stack For Optimal Results
Before Your Workout:
PreSurge: For best results, take one to three servings in 8 to 24oz of water. Consume 20 to 30 minutes prior to exercise, preferably 1 to 1.5 hours after your last meal for the quickest absorption. PreSurge Unleashed is a incredibly strong formula and we HIGHLY recommend to start with one serving to assess your tolerance and work your way up to three servings if needed.
While You Workout:
IntrAbolic: Mix 1-2 servings of IntrAbolic in 12-24 oz of water. Vigorously shake for 10-20 seconds. Allow the powder to fully dissolve (2-5 minutes). SLOWLY sip IntrAbolic throughout your workout session.
After Your Workout:
IntraXcell: As a dietary supplement, take one serving twice daily. IntraXCell may be taken with or without food--food may dampen the prickling/flushing effect that some people experience from Beta-Alanine.
On training days: Take one serving 15-20 minutes prior to exercise (can be conveniently taken with our Pre-Workout formula SteelEdge) and take one serving post workout.
On non-training days: Continue to take two servings daily with food.
For best results, use IntraXCell daily for a minimum of one month to optimize intracellular muscle carnosine levels. Performance benefits from IntraXCell will become noticeable in your workouts within 1-2 weeks, and will continue to become stronger for the first three months as intracellular carnosine levels continue to increase. To fully maximize IntraXCell's benefits, we recommend individuals stay on IntraXCell for a full three month cycle.