Quick Links to Best Prices Price History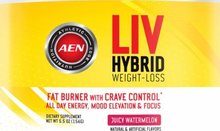 Athletic Edge Nutrition LIV Hybrid
How do you LIV
At the edge?
WHAT IS LIV HYBRID WEIGHT-LOSS?
Liv Hybrid Weight-Loss is an uncompromised approach to formulating the most comprehensive, effective fat burner on the market.
INNOVATION. ADVANCEMENT. ENHANCEMENT
What makes LIV Hybrid Weight-Loss
THE BEST FAT BURNER?
A combination of clinically validated premium ingredients that stimulate the body to burn more calories, support fat loss while boosting your mood, energy and focus throughout the day.
STOP SEARCHING. START ACHIEVING.
How will LIV Hybrid Weight-Loss help me
lose weight, while also feeling energized and focused?
Many weight loss formulas can leave the user feeling drained of energy, anxious and overall just in a bad mood. Not to mention, include no ingredients for actual weight loss, or doses at research supported levels. This hardly creates the perfect recipe for successfully losing weight and feeling good while you go through the process. LIV Hybrid Weight-Loss works just the opposite and addresses both the mood aspect of weight-loss as well as the fat burning and fat storage aspects needed for total success.
LIV Hybrid Weight-Loss works effectively through a combination of clinically validated doses of research developed plant extracts. These extracts, assist our body's fat loss. Furthermore, LIV Hybrid Weight-Loss includes ingredients that naturally boost the burning or expenditure of calories.
To address the mood fluctuations that go along with weight loss, LIV Hybrid Weight-Loss includes ingredients that increase energizing neurotransmitters, to keep your mood elevated as you reduce your caloric intake. A large focus of the formula, is to insure sustained energy and focus throughout the day, allowing you function at your highest level.
YOU PROVIDE THE BODY. WE MAKE IT BETTER.
who we are
LIVE LIFE WITH CONVICTION AND AUTHENTIC PASSION.
We create the must-have nutritional tools that allow influential men and women to achieve greater personal fulfillment and create a life in which nothing is average. We won't create products based on hype. We don't settle for less. We stand on a foundation of craftsmanship and sophistication.
For those who value the quality of their life experience...this is the brand you can look to. For all those who have been searching for something real, true and effective. We are on a continuous mission to create products that will be the best-in-class, always the obvious choice when one wants the highest quality. Our products "Create the Advantage" and will give you the edge you need to reach your goals.
substance over hype
Athletic Edge was created to raise the standard in product development, innovation, research and be best-in class in sports nutrition. We want to change the public perception of sports nutrition by putting substance over hype. What we were not going to be, was yet another sports nutrition company built first and foremost on marketing hype, with product formulation, science, research and quality control at the bottom of the priority list, or many times, not on the list at all. The below steps were taken to show our commitment to substance over hype.
1.
Transparency in our product formula's:
Our newest formulations, fully disclose ingredient theEdge, proving to you, they are being used in research backed effective doses.
2.
Research on our finished products:
The most powerful strategy to prove to you that our products do as claimed is by putting our finished products through research studies. We sign waivers with the researchers prior to the start of the study, allowing them to publish the results no matter if they are good or bad. We put our reputation on the line, to prove to you, that we so strongly believe in our products and embrace the research process. So far we have had, five all positive studies, that back the claims we make on our products. Not only do our formulas go through rigorous research, the research done on them is of such high quality, many of our studies have made it through scientific peer review and published in science journals. This goes back to Athletic Edge's DNA in that we are driven first and foremost by research and development, unlike many of our competitors, which are marketing/hype driven.
3.
Quality control:
Quality control occurs both at the stage of manufacturing and further more should be backed up by having a unaffiliated third party organization test every lot of our finished products. Many third party testing organization, just test for banned substances on various sports organizations lists. We wanted to partner with a testing agency that analyzed our products at a much deeper level, as well as being more relevant to the typical exercise enthusiast from a health/risk standpoint. This process is completed by the world renowned, Oliver Catlin, whose organization is called Banned Substances Control Group (BSCG). BSCG tests our products for banned substances, over the counter drugs, pesticides and hundreds of other toxic harmful chemicals. On all of our newly branded product labels the BSCG logo is added so that the consumer can feel confident that they are getting exactly what they expect in our products.
4.
Actions speak louder than words and we have a ten year track record to prove it:
You, the consumer is intelligent enough to look at the track record of a company and see if what they say and what they actually do coincide. For example, over the course of our ten year existence, we have never backed ingredients that had no scientific support, strictly to try and reinvent the wheel as so many of our competitors have done. You don't have to look very far back to recall how prevalent ingredients with no scientific support, like creatine ethyl ester(CEE) or other "exotic" supposedly superior forms of creatine were used by the majority of companies, falsely touted as superior to creatine monohydrate. The list goes and on and but our track record stands and proves Athletic Edge has never followed the herd and jumped on these scientifically unsubstantiated ingredient bandwagons.
LIV HYBRID
WEIGHT-LOSS:
KEY INGREDIENTS,
A CLOSER LOOK
want to start seeing changes in your body in two weeks?
400mg Meritrim
The core of LIV Hybrid Weight-Loss is built around the research backed ingredient Meratrim, which is composed of two natural plant extracts, Sphaeranthus indicus and Garcinia mangostana. The randomized, double blind, placebo controlled studies showed the subjects taking 400mg of Meratrim taken two times a day for a total of 800mg, showed significant weight loss in as little as two weeks. Furthermore at the eight week time points, subjects on Meratrim reduced their waist and hip circumference. This research suggests these benefits are being brought about through Meratrim's ability to partially block fats cells from both the uptake and the formation of fat. These studies demonstrated that Meratrim increased the levels of Adiponectine, a protein in our bodies involved in regulating fatty acid breakdown. Other factors in our body that regulate fat storage and accumulation is the protein peroxisome proliferation- activated receptory (PPARy), adipocyte differentiation related protein (ADRP), cluster of differentiation 36(CD36) are favorably influenced by Meratrim.
254mg Green Tea Extract (70% EGCG, Decaffeinated)
Shown to increase caloric expenditure, helping you reach your weight loss goals. Most green tea extracts contain 40-45% EGCG content, the component largely responsible for the weight loss attributes from green tea. LIV Hybrid Weight-Loss, utilizing a more potent 70% EGCG, to get greater benefits from a smaller dose of green tea.
175mg Blend of fast acting and time released caffeine
LIV combines a mix of fast acting caffeine 125mg and 50mg time released caffeine for sustained all day energy.
50mg Neuravena
A developed specialized wild green oat extract, that concentrates specific constituents of the plant that have been shown in research to boost the neurotransmitter dopamine and have a positive impact on stress resistance. The overall benefit is greater alertness, energy and focus, while stabilizing stress levels. By including Neuravena, we further enhance the end users optimal mental state needed to assist them throughout their day as they progress through their chosen diet protocol.
50mg Theanine
Stimulates alpha wave activity in the brain and has been shown when combined with caffeine to be highly beneficial in improving alertness during demanding tasks. As an additional benefit, Theanine has been shown in research to accelerate mental regeneration after exercise and reduce the negative side effects of caffeine. The perfect supplement to combat diet and exercise induced neurological burnout that frequently occurs when dieting and training hard.
1mg Yohimbine HCL
Supports the increase in the mobilization of fat, assisting in weight loss.
banned substance control group (bscg)
A crucial step in our quality control and ensuring our customers are getting safe products that are FREE of containments, pesticides, toxins, banned substance and over the counter pharmaceuticals. Each lot number of every AE product produced is tested by the unaffiliated third party organization, banned substance control group (BSCG).
On all of our newly branded product labels the BSCG logo is added so that the you can feel confident that you are not getting anything that is not shown on our labels.

For more information on BSCG, please visit them at bscg.org