Warning: This product is not currently available at any store.
Click the button above and PricePlow will email you when the first store has it in stock!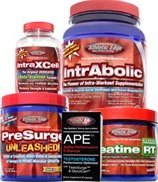 Athletic Edge Nutrition Complete Nutrient Timing Stack
Athletic Edge APE
Click here to read reviews and logs on APE including some users that had testosterone levels measured before and during taking APE.
ATTN: MEN-Your Current Test Booster is FAILING Miserably
Day in and day out, you give it your all in the gym. Day in and day out, you plan your diet to a T in the kitchen. No questions about it, you are committed to the lifestyle. Yet, despite all your dedication and perseverance, you're still not PERFORMING, LOOKING, & FEELING the way you know you should be; in or out of the gym.
No, we cannot replace all of your hard work and dedication, but we can give you a powerful tool that WILL greatly assist you in your journey like nothing you've ever experienced before.
It's time to bring back what's missing and take your training to the next level. It's time to go APE!
More than a Narrowly-focused Testosterone Booster
APE provides FOUR Clinically-backed powerful attributes in ONE comprehensive product formulation:
1. Maximize Testosterone Production Beyond Natural Levels
22% Greater Increase in FREE TESTOSTERONE in ONLY 12 Hours after ingestion*
Increase BIO-AVAILABLE TESTOSTERONE 1.8 Times After 8 Weeks*
2. Refine Your Physique Beyond Genetic Limitations
Over 2 times Greater FAT LOSS After Just 8 Weeks of usage* (get lean & shredded).*
3. Improve "Alpha-Maleness" Beyond Normal Capacity & Intensity
Sex Drive, Libido, Vigor & Vitality Enhancement in both the short term and long term*
Inhibit Estrogen (Anti-Aromatase)*
4. Enhance Vascularity & Athletic Performance Beyond Normal Limits
Increase Nitric Oxide (NO), thus increasing blood flow and oxygen delivery to the muscles*
Increase Endurance & Performance during repetitive high intensity exercise*
APE is so powerful, you ONLY need to take TWO power packed capsules ONCE a DAY, 5 days a week. For maximum results, an 8 week cycle of APE is recommended.
Athletic Edge PreSurge
The pre-workout category is one of the oldest most cluttered categories in sports nutrition today. Sadly, if you look closely at the supplement facts panels of many of these products, you will see the same OLD SCHOOL formula that has been around since early 2000. And despite huge evolutions in sports nutrition research, these pre-workout formulas stay the same. We see NO reason to recycle old largely ineffective, outdated formulas, simply to try and make slight improvements, like other companies do. Staying true to our tradition of bringing out ONLY premium, innovative, uncompromised formulas, we are pleased to introduce PreSurge!
Supports Nitric Oxide Synthesis & Vascularity with patented GlycoCarn*
Promote Blood flow, Engorging Muscles bringing on Muscle Fullness & Hardness*
Specifically Designed to Prime & Sensitize Your Muscles for The Anabolic Flood of Muscle Building Peptides & Amino-Acids brought about from our Intra-Workout IntrAbolic. Phase-2 in our Nutrient timing stack.
Athletic Edge IntrAbolic
What is the point of investing your hard earned money on supplements that claim to be the latest and greatest phenomenon when they are NOT going to help you DURING your workouts?
Bodybuilding is about Body – Building. During workouts, muscles are torn down and fatigue can be a tremendous challenge. By providing your muscles with effective nutrients DURING your workout, you will boost the anabolic response, fight the catabolic effects of exercise and delay muscular fatigue, ultimately leading to NEW muscle gains!
Continuing to evolve with the latest advancements in Nutrient Timing Science, we bring you IntrAbolic:
Intra (During) + Anabolic (Muscle building) = IntrAbolic, The Pioneer of During-Workout Supps
IntrAbolic Highlights:
Stimulate the Anabolic Response, Build Muscle FAST
Fight Muscle Breakdown, Boost Recovery
Boost Endurance & Explosive Muscular Strength
IntrAbolic-Peptides providing 70-80% rapidly absorbed, low-molecular weight di- and tripeptides
The AEN Performance Dose Guarantee
Shake and mix, NO blender needed
Athletic Edge Creatine RT
Introducing Creatine RT: The World's First & Only Clinically Supported Creatine & Russian Tarragon Extract Combination. NO CARBS/SUGAR NEEDED. The Consumption of Huge Amounts of Fat Inducing, Physique Destroying Sugar with your Creatine is NOW A Thing Of The Past!
Russian Tarragon Extract Increased Creatine Absorption More than 70 Grams of Sugar
20% Greater Muscle Creatine Absorption Than Creatine Alone
NO Sugar, NO Bloat & NO Banned Substances. Just a Scientifically Advanced Twist on Sports Nutrition's Most Proven Supplement.
Creatine RT Highlights- THE EVOLUTION of Creatine Supplementation
Dramatically Increase Creatine Uptake With Specialized, Research Supported Russian Tarragon Extract. NO CARBS/SUGAR NEEDED.
NO Sugar, NO Fillers, NO Fluff, just Dramatic RESULTS
100% Pure Patented German made Creapure
ONCE a day Creatine
The Perfect Alternative for Creatine NON-RESPONDERS
No Loading Phase Necessary!
FULL MONTH supply!
Athletic Edge IntraXcell
Until now, creatine, with numerous research studies to support its effectiveness, was the leading supplement for improving exercise and muscular performance. Since creatine made its explosion into the sports nutrition world in the early nineties, our understanding of exercise physiology and sports nutrition has evolved exponentially. Recent research is giving rise to another supplement breakthrough…one that will change the direction of the industry like creatine did so many years ago. The research supported, IntraXCell* is THE next breakthrough supplement for increasing explosive strength, muscle mass and endurance.
IntraXCell Highlights:
(As supported by TWO research studies)
In 8 weeks, subjects gained 2lbs of Lean Body Mass (LBM) on average, with some subjects gaining up to 7lbs of LBM!
Boost Muscular Strength & Power Output
Delay Muscular Fatigue - Train Harder & Longer
No Bloating or Water-Retention
While other supplement companies talk a big game, making unsubstantiated claims with no scientific support, Athletic Edge Nutrition is different. We are a NEW breed of supplement company. We raise the standard, by placing our exact formula (IntraXCell) through the rigors of a scientific research study. In doing so, we want to PROVE to you that IntraXCell delivers the promised results and will meet and exceed your highest expectations!