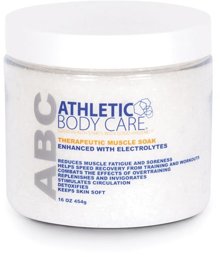 Athletic Body Care Therapeutic Muscle Soak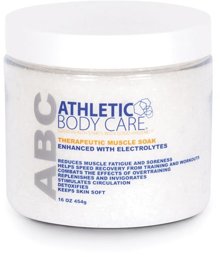 Athletic Body Care Therapeutic Muscle Soak
Therapeutic Muscle Soak Description from Athletic Body Care
Feel your muscles replenish and relax with our one of a kind blend of therapeutic grade salts, minerals, essential oils, and electrolytes. Muscle hydro soak formula is specifically designed for the active lifestyle. Our focus is to transform your soak into an amazing, stress relieving experience that will leave your body feeling refreshed and your muscles renewed. TMS is rich in health inducing amino acids, active vitamins and minerals, including magnesium calcium, sodium, potassium that nourish your body, ease muscle tension, soften skin and lessen body and muscle stress. TMS salt blend improves the elimination of waste and toxins while providing the needed pain relief for sore tired joints and muscles. Added benefit of breakthrough topical electrolytes will replenish you tired muscles and allow your body to maintain a good fluid balance. This will boost a feeling of relaxation, health and well being. The salts are also infused with essential oils of peppermint and eucalyptus for added relief. The bottom line is TMS is specifically designed to renew your senses and muscles to get you back out into your active lifestyle with less downtime.
Ingredients:
Muscle Soak Supplement Facts:
Proprietary Blend
Therapeutic grade: Epsom Salt (Magnesium, Sulphates)
Pacific Polar Sea Salt (sodium, chloride)
Dead Sea Salt (Magnesium, Potassium, Calcium, Bromide)
Amino Acids
Eucalyptus Globulus (Eucalyptus) Oil
Mentha Piperita (Peppermint) Oil
Aloe Vera Gel
Melaleuca alternifolia (tea tree) oil
Tocopherol (Vitamin E)
other trace elements.
Manufacturer's Directions
Place a small handful of salts in hot water and soak for 12-15 minutes. For extra relief use 2 or more handfuls as needed. Safe for use in a bathtub, hot tub, Jacuzzi and whirlpool.