Quick Links to Our Prices
How does this work and how do stores get listed? See our disclosure below to learn more. Price History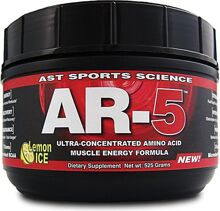 AR-5 - Ultra Concentrated Amino Acid Muscle Energy Formula
7 Grams Micronized BCAA
Grams Micronized Glutamine
1210 mg Anti-Catabolic AA Matrix
1150 mg Hydrolyte Electrolytes
Great tasting Lemon Ice and Juicy Grape
What if you could literally infuse your muscles with extreme-energizing, power-producing, and growth-enhancing amino acids (the building blocks of muscle) instantly - on command? Now you can - and the results will blow you away!*
Introducing new AR-5 - a breakthrough amino acid muscle energizing formula that is brilliantly designed to give you more dynamic power, insane stimulant-free energy, faster between set recuperation, more effective between workout recovery, greater training endurance, optimal intra-muscle and whole-body hydration, dramatic strength increases, and accelerated protein synthesis and muscle growth.*
And it's available now in a fast acting, great tasting performance drink mix. AR-5 comes in two awesome flavors - Lemon Ice and Juicy Grape.
AR-5 is quite possibly the most effective performance supplement you'll ever use. Each serving pumps an ultra-concentrated performance matrix directly to your muscles packed with incredible array of the following performance enhancing substrates.*
Micronized BCAA
BCAAs - Branched Chain Amino Acids are the "holy-grail" of muscle-building aminos and AR-5 delivers your muscles a potent dose (7 grams per serving) of Micronized BCAAs for ultra-efficient and rapid muscle uptake.*
BCAAs are the most extensively researched amino acids. When it comes to turning on anabolic activity in muscle tissue while turning off anti-catabolic activity, no other amino acids have shown such direct effect. And by incorporating an advanced micronization technique to each individual amino, we have created a formula with a rapid muscle uptake unmatched by anything else available.*
Micronized Glutamine
Glutamine is the most abundant single amino acid in the blood and in the intracellular free amino acid pool (most abundant amino acid in muscle tissue). It comprises 61% of the amino acid pool in skeletal muscle. Glutamine's unique structure, containing two nitrogen side chains, consists of 19% nitrogen - making it the primary transporter of nitrogen into the muscle cell. In fact, glutamine alone is responsible for 35% of the nitrogen that gets into the muscle cell. Glutamine literally drives muscle building nitrogen into the muscle cell where it is synthesized for growth.*
HydroLyte
Building muscle requires maximum effort - both mentally and physically. Peak muscle hydration and just as important, whole body hydration, are paramount to maximum muscle fiber contraction, power generation, endurance and mental focus. AR-5 delivers a potent electrolyte punch to hydrate and fuel working muscles allowing you to perform stronger, faster, and more focused for longer.*
Anti-Catabolic Amino Acid Matrix
There is a specific set of key amino acids that directly impact (stop) protein breakdown. These very unique amino acids are paramount to anti-catabolic activity in muscle. AR-5 intelligently integrates optimum ratios of these supremely important aminos in every serving. Every sip of AR-5 helps prevent the breakdown of hard earned muscle.*